Where is the best place to live, The middle of nowhere or the middle of a city?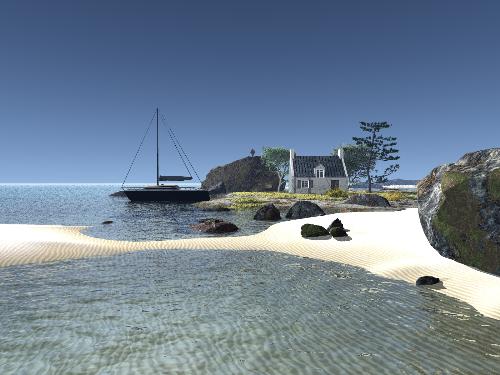 December 8, 2007 11:25am CST
Where and why? You can see that I prefer out in the middle of nowhere, preferably with a boat and a beach!
6 responses

•
8 Dec 07
I am a very lucky person as in my 33 years of life I have lived in the city, the middle of nowhere and all places in between. I personally like living where I am now. Its a small town but a short drive away from 2 big cities. Kings Lynn is small enough to be a town where everyone knows everyone, but big enough to avoid people you dont want to see. If I were rich, I would live in the middle of nowhere with acres of land, animals everywhere, a small pond and I would also have the ability to maintain my property properly..

• United States
8 Dec 07
(Laughs) Running away from people, are we. I think that the best place to live is a place where one is comfortable and can easily afford one's living expenses. Pesonally, I prefer (or more like dream) to live on, at least, a ten acres land in a city, town or country. I just love to know that I and my family have all our privacies, as any human such have. While I have no problem with clustered cities, I think that it is terrible for people to always be at each other's elbow!

• Canada
8 Dec 07
I'd prefer to live in the middle of somewhere rather than nowhere. I just can't give up modern conveniences for the quaint and simple life. I think I'd get quite lonely living in the middle of nowhere. I'd like to be able to go to the movies and go shopping with my friends, you can't really do that in the middle of nowhere... I'm not saying living in the middle of nowhere is bad, just I'd prefer living in the city instead. I'm sure it'd be great for vacations. Ah, a nice tropical beach sounds great for a vacation, especially with the cold weather lately.

• United States
8 Dec 07
it all depends on your personality and what you're looking for. if you love people, lots of action and all of that then a city would be good. obviously you'd always be surrounded by a lot of people and there would always be something happening - especially in a big city like new york city or los angeles. but, if you're more of a quiet person and you like peace and quiet and don't like to be bothered by other people and lots of hussle and bussle then out in the middle of nowhere is the best choice.

• Philippines
8 Dec 07
Both has its advantages. If you live in the middle of the city, everything is accessible for you. You won't need to travel far to buy something or to do whatever things you need to do since most important offices are within the city. However, if you live within the city, life is more dangerous. There are more thieves, more gangsters and more calamities. I live in the middle of the city and I got so traumatized when there was a month wherein 3 big fires hit my neighborhood. We were so scared we were actually contemplating of moving to farther places with less neighbors. On the other hand, if you live in the middle of nowhere, you can have all the serenity you want but it will take a long trip for you to buy something or process something. The most disadvantageous reason for me would be that during health emergencies, you'd take a long time before you reach the hospital. This is just under the assumption of course that the hospital is within the city -- most of them are.

• Australia
9 Dec 07
I live in between the two. I live on the east coast of Australia in a rural kind of area. We still have a large city centre and all of the necessary facilities, lots of beautiful restaurants, shopping complexes and so on, as well as exquisite beaches and the small-town atmosphere of everyone knowing each other. =)