Lizzie is packing due to a divorce in the family.

United States
December 11, 2007 8:07am CST
Most people know that Lizzie is one of our dogs. The other one is Gizmo. My hubby and I are divorcing after 17 years. Lizzie is primarily his dog. He comes to visit her just like he visits the children. Recently, Lizzie has taken to packing her ball, chew toy and hard bone in a box. At times, she stands in the box and tries to figure out how to sit in the box without breaking it. She will spend hours packing and unpacking and then re-packing her things. Gizmo and I both think Lizzie has lost her mind a bit. She is heartbroken and it is so obvious. Does anyone have any ideas that could be helpful??
9 responses

• United States
11 Dec 07
Is it possible for your husband to take Lizzie with him? Maybe your dogs no best and you guys could try to work it out for their sake. Maybe she is telling you she wants him to bring back his boxes and unpack them. I hope she adjusts soon she must be so sad.

• United States
11 Dec 07
Eventually, Lizzie and Gizmo will go live with him but for now they have to stay with me. I like the dogs but they really are his. We filed the divorce papers yesterday. We have spent a lot of time trying to work things out and divorce is the best option for us at this point.

• United States
13 Dec 07
I agree with you, mooch. She wants to go with him so badly. When he comes to see the children, she wants to have her time with him also. He does take time for her which is good. When it is time for him to leave, Lizzie is at the door waiting to go. I know that when the time comes for her to go live with him, she will be so much happier.

• Australia
16 Dec 07
this is by far the saddest thing I ever heard. I was going to say, can't your ex take her but then I realised that unless the family is whole she won't be ok. The only thing I can think of is to spend time with her, touching, patting, talking softly to her. The only other thing I can think of is to take advice from your vet. How are you holding out? Best wishes. xx

• United States
17 Dec 07
Eventually, my soon to be ex will be taking her. In the meantime, I do what I can. The vet has been helpful also. As for me....I am surviving one day at a time. That is all I can do. I pray every day for understanding. I have a hard time understanding how my hubby could put our family through this ordeal.

• Australia
17 Dec 07
Maybe you all just need some time. Relish your freedom and independence if you can (fake it if you cannot) it may give him pause to think. I think sometimes you must be feeling quite low. I know when I don't understand things (which is a lot of the time) I can be sometimes filled with despair. Lean on and hold tight to your friends, we are here for you sweety. Big hugs.

• United States
11 Dec 07
Sorry to hear it has come to this.. my heart is with you. I am sure Lizzy will adjust for now. I read he will probably take her after a while which would probably be best, since she is more "his" dog. For right noiw, give her plenty of attention and make sure she feels loved. Just like you would for your kids. I'm around if you need me, you know how to find me :)

• United States
13 Dec 07
Yes, Mish, sadly it has come to this. There is a lot going on and it gives me great comfort to know you are close by should I need to talk with you. Thank you so much for being a kind friend.

• United States
13 Dec 07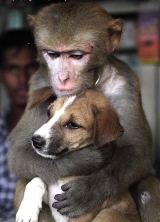 Well, you know how to find me.. anywhere. Chin up girl. I know it's hard, but you are a very strong woman. (((hugs))) for you AND Lizzy

• India
12 Dec 07
Oh, I really do feel so sad for Lizzie. She must be worried about the changes that have taken place in her life. I guess things will be ok for her soon. Time, after all, is the best healer.

• United States
13 Dec 07
All animals are very sensitive to their surroundings. I think dogs more so. We have had Lizzie since she was 6 weeks old and she is 5 years old now. This is the only home she has ever known.

• Philippines
12 Dec 07
That's too sad. I'm sorry to hear about your situation. I think Lizzie feels what you are going through so she wants to stay with you. To be your comforter. To give you hugs during those lonely and awkward times. I guess its hard even for animals since they can sense what's happening around and if only they can talk, I think they can be more sensible than most humans.

• United States
13 Dec 07
Just like a child, she probably wants her "mommy" and "daddy" to get back together. Sadly, that will not happen without some major counseling, but strangely, I can see us getting back together if we were to work at it very hard. I still love my hubby very much. I do not want this divorce.

• United Kingdom
11 Dec 07
Oh Sweetie I am so sorry I am surprised that she is still pinning though I really do not know what to suggest about this I really hope that she will soon settle down and get used to it I really do not know what to suggest or what would help her

• United States
13 Dec 07
I think she is very aware of the stress that is present. Sometimes I think she needs a counselor. LOL At least she is eating well and is not having any physical problems.

•
11 Dec 07
is lizzie a dog or a boy. the wat it is acting it is strange. is she is heartbroken because of you and your husband got divorase. i think it is feeling bad of this

• Philippines
11 Dec 07
ow, that is so sad. Not only for the dogs but also for both of you. well, i'm sure you've thought hard about this so I guess there's no holding him back. As for the dogs, its really heartbreaking but dogs get over their sad situation fast. They will eventually be able to adjust and accept the situation. Just be very kind to them so they won't be very sad. Kiss Lizzie and Gizmo for me...poor dogs.

• United States
13 Dec 07
I have given the dogs kisses for you and for me. They like kisses and hugs. We will all survive this somehow.

• United States
17 Dec 07
Ahh, that is sad. Dogs have feelings too, they have a harder time expressing them. Her "daddy" isn't there anymore and she doesn't understand it, it sounds like Lizzy wants to go to. Did Lizzy watch your hubby pack and leave, it sounds like she is mimicking him. I hope things settle down for all of you soon. Divorce is so sad, for everyone concerned. Take care and good luck.