How do you market your craft items?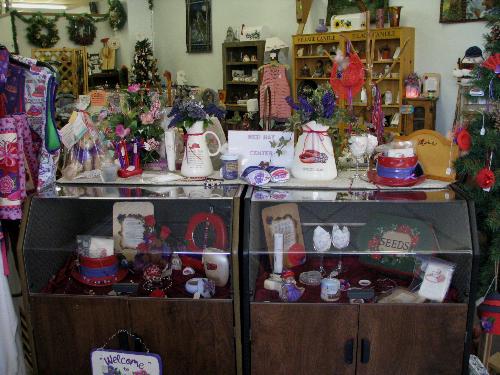 United States
December 12, 2007 12:43am CST
There are so many talented people out there that do beautiful craft items and my question is what do you do to sell your items, and what seems to work the best for you. Do you have a shop? Do you sell online? Do you put your things on consignment in other people's shops? What about craft shows. I myself do many types of crafts but ceramics is my first love. I recently opened my own little shop and it is doing pretty good for being a new shop. I also made a web page but although many people go to it few of them buy. I don't like doing craft shows as I hate packing everything up, setting up, sitting there all day and then not being sure if anything will sell. On top of that you need to pack it all up to take home.
4 responses

• United States
12 Dec 07
I have tried so many times in my life to market what I make. I do very good hand work. Been told so many times that my stuff is amazing and wonderful and all that, but even with my lower prices, did those people even buy? No. I raised my prices thinking maybe some thought that if they were so good, they wouldn't be so cheap, but that didnt' work. I made the most gorgous clothes you ever seen for little girls, and was complimented alal the time and even asked where I got them, but still no sales. So I just stopped. I made for my kids and they loved it and that was nice so I let it go at that. Wish everyone else better luck!

• United States
13 Dec 07
I am sorry you had so much trouble marketing your items. Pricing can be tricky because you never know what people are thinking. You should check out www.homegrownmarket.com This is a site for only hand crafted items and it is free. You pay 15% of what you sell so you can price it accordingly. I just joined so I can't really give you any feedback on it but since it is free I figured why not try.

•
16 Dec 07
Coffee Break, I have the same problem. I make beaded jewelry and think a lot of it is beautiful. Marketing on the other hand is difficult. I use My Space, I use Forums, email, and any other website that encourages you for a web url. Pricing is tricky, and I believe that if people see how low I price my jewelry, then they may not think it is worth buying, but then if you over price, you will get no sale.

• United States
17 Dec 07
I know. I thought the same thing. So I raised prices and still nothing went. But then I'd see someone's else same kind of item selling for more than mine and from looking at the pictures it wasnt' even as nice as mine! Oh well, those days are over for me. My hand made days left me awhile back! But it is nice to remember all I did and see them come out of storage from my kids to my GD"s.

• United States
12 Dec 07
Wow, that is awesome that you opened your own little shop. I worked for a boutique many, many years ago where I made items for the owner and we sold them to the summer tourists. Yes, I do have an online shop and it has done better than I expected. (well at least I'm operating in the black) I also do craft shows and I don't really mind the packing up aspect, as it's my only chance to get any "face time" with possible customers. What is the address to your website? I'd love to see it!

• United States
13 Dec 07
I liked the aspect of interacting with customers at the craft shows but due to the nature of my crafts (a lot of breakables) it was so much work packing and unpacking. My website address is www.oleandlenas.us I also have a store on a handcrafted site located at: www.HomeGrownMarket.com/wisconsincrafter Let me know what you think, and thanks for posting

• United States
13 Dec 07
Look into Etsy.com It's a website that is gaining popularity quickly (Martha Stewart has a seller from Etsy on her show last Friday and she drops the Etsy name quite frequently) Etsy is all handmade and you set your price on your item. Listings cost.20 and they charge less that 3% on anything you sell. Listings last 4 months and they allow you 5 free photos per listing.

• United States
15 Dec 07
Hi! I have a Online Graphics,Scrapbooking and Graphics E club http://thegraphicsshopeclub.com and the hardest thing for me is getting the word out there about my website. We sell only online at the moment and we have used Ebay also and it is a great tool for selling your items affordably without having to pay up front(Which I enjoy because I can pay my fees monthly). Here is another good place you can sell online handcrafted items etsy.com Crafters from all over the world post and sell there items there. There are alot of DIY Crafters there also. There are Estores that you can set up also at these links primmart.com wahmshoppes.com Hope this helps! Maemae

• United States
16 Dec 07
My problem is the same as yours, getting the word out about my site. I have tried ebay and it is okay but takes time on the computer for the graphics and stuff. I looked at etsy.com and there is so much listed there I can't believe that sales would be very good for any one crafter. I did find a site www.HomeGrownMarket.com that is for crafted items only and they give you your own site, it is free to list and 15% of sale price. Not bad in my opinion. I have not heard of the other two you mentioned but I will check them out. Thanks a bunch.

• Australia
13 Dec 07
I tend to sell my items on ebay & they move quicker than any other items I sell. I do have a friend that has a shop & has offered for me to do stuff on consignment for her but I just haven't had the time now that I have a 7 month old daughter.

• United States
13 Dec 07
I thought about ebay but I don't think I have enough time to spend listing items, answering questions and I want to keep my prices low enough so everyone can enjoy my things and I would have to raise my prices to cover the percentage ebay and paypal charge. Glad you are doing well. I also think it depends on the items you are selling. What type of items do you sell. Congrats on the new baby.