bangalore test match!!!!!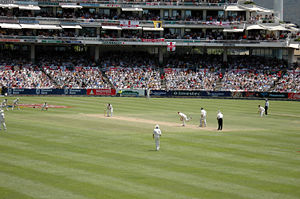 Pakistan
December 13, 2007 2:23am CST
well da final test match between pakistan and india was da most excited as both da sides played superb,till end it was that da victory is in hands of india but then it was a draw,i usually enjoy cricket matches but when its a match between india and pakistan its dammm interesting,some how i felt that this time india was better off its players ganguly and yuvraj singh are awesome batsman and so they r surely real pride of india,so folks what do u think
2 responses

• India
13 Dec 07
Once again, India lacked the killing instinct. The batsmen played slower innings and Indian batsmen should have hurried and piled up good score rather than playing for more hours. It enough runs are on hand, declaration could have been done earlier and chances of 2-0 would have been there. However, by and large, comparatively India played better than Pakistan in all departments.

• Pakistan
13 Dec 07
ssh i totally agree with u,india in most of aspects played well than pakistan

• India
13 Dec 07
I think it is one of the coolest match I had ever seen. There were lots of action during the match. I though India might be win the match with the sudden fall of wickets at the end of hte match. I think Ganguly did a good job batting. Yuvraj was in good song and balls were flying all over the place. Finally Dinesh Karthik was able to get into some good form. Pakistan also did some very good batting adn it was not one side match and was a real treat to watch.

• Pakistan
13 Dec 07
yes ajit it was one of da best match i have ever seen,but anyways india were da victorious and they surely have given "diwali gift" to their people,hats off to indian team