The most beautiful bird you have ever seen

December 13, 2007 7:08am CST
When I was a little girl my mother took me to the zoo and from that time I think that the most beautiful bird I've ever seen is the swan. From that time I've seen this type of bird in different places and I found it so wonderful. It is gorgeous with it's pose. What do you think?
7 responses

• Murfreesboro, Tennessee
13 Dec 07
I am in love with ravens and crows. I know it's not a popular answer. I know they aren't colorful or stately. But they are so clever, and so black against the bright white of the snow here, so beautiful in the contrast. They are everywhere, they have followed me in the courses of my life from one wood to another, cawing and stealing pretty shiny things for their nests and outwitting any trap I've seen set for them. It doesn't hurt that they have religious significance for me, but I honestly think I would love them anyway.

•
13 Dec 07
It's a strange answer but we all have our opinion in defernt things. Thanks for response.

• United States
16 Dec 07
I agree with you lecanis! I think crows and ravens are beautiful! Great jet black feathers! I don't need a bird to be extremely colorful to find it beautiful! I said my favorite bird was the eagle, they aren't colorful either! hehe

• United States
13 Dec 07
I have to agree with you. I have watched this bird and I think it is the most graceful bird I have ever seen. It reminds me of royalty. It's movements are very graceful. I love to watch these birds whether on the television or in real life. I get a peaceful feeling when watching them.

• United States
13 Dec 07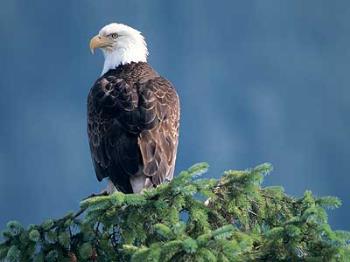 I'd have to say...the ostrich...or the emu....just kidding! lol. Swans and Peacocks are defeniatly beautiful animals! But I have always been a big fan of Eagles. I think they are gorgeous, graceful birds! I love them, Eagles and hawks. They have less obvious beauty=D And I love them!!

• Cambridge, England
13 Dec 07
I agree that the swan is a very stately bird but I would rate the peacock as, perhaps, the most beautiful. Certainly, when he unfurls his tail with a rustle, the sight is one of the most awesome ones I know. I recently saw hummingbirds in California for the first time. The ones I saw were Anna's Hummingbirds and to see these tiny creatures flitting and hovering at flowers and in the air (catching tiny insects) was amazing. When, by chance, the sun caught their feathers and they flashed like jewels, I was captivated by the beauty that is there for us to see, if we only look.

• United States
13 Dec 07
Swans are very beautiful we have two swans at our local park they swim around and come up and will eat bread out of your hands as they are used to people. I like peacocks when they have there feathers all spread out they are so beautiful. And the white dove has to also be included in gorgeoud birds.


• United States
30 Dec 07
I think swans are pretty, but they really don't excite me that much. My favorite bird is a Heron. To me, they are really interesting. I could watch one for hours.