Snow has dumped on us in Michigan!

United States
December 16, 2007 2:34pm CST
We have close to a foot of snow here already and it keeps coming! UGH! I have shopping to finish up but there is no way I am getting out in this mess,lol :) Hopefully tomorrow will be a better day to try,last minute shopping isn't always the easy way to do things I know. How much snow have you gotten where you live? this is the biggest storm we have had since 1999! And during that storm I wrecked my car twice! No driving for me lol.
5 responses

• Singapore
18 Dec 07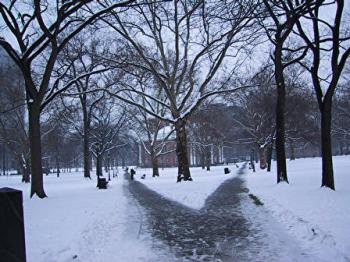 wow that's a lot of snow!I've heard that some people have moved out of canada and other snow laden places just so that they don't have to shovel anymore. this is a picture i took of beautiful snow a couple of years ago. snow is great to look at but awful to clear away!

• United States
18 Dec 07
Lol so true,the snow stopped for now,but I think by wednesday or thursday we may be in for a little more,hope not another 9 inches.

• United States
17 Dec 07
We haven't gotten any snow here in southern Indiana. We did get sleet and rain over the weekend. Though my family lives about 35 miles away and they got 3-4 inches of snow. I try not to do any unnecessary driving when it snows, but I do have to drive to work.

• United States
18 Dec 07
yea my sister in law lives in Fort Wayne,I haven't talked to her so have no idea what it was like there,the roads were pretty bad,but today there were some spots still that were aweful,but I managed to finish my shopping!

• United States
17 Dec 07
We are also in MI and got about 6". We managed to shovel/snowblow in a little over an hour. Luckily the snow stopped before I had to pull out my shovel again :) They still haven't cleared all of our streets yet, so I hope I will have an ok drive to work in the morning.

• United States
17 Dec 07
Well be careful and be safe in the morning,most schools are closed,and my hubby doesn't know if he has to work tomorrow,he is a carpenter and they just started building a new house. Oh Michigan,they said we would get this much,but how many times have they been wrong? LOL I guess this time they hit the nail on the head.

• United States
17 Dec 07
I live in Ohio and we have about 6 or 7 inches of snow. It has finally let up but the winds are drifting it and the roads are not good. I have a little bit of things to do, but they can wait. Hopefully you will get better weather soon!!

• United States
17 Dec 07
Yes my sisters in law and brothers,live in Ohio,one in Mentor and the other in Hudson by Akron,they said the roads where still pretty nasty. Here the winds are still wipping,and over 500 school are closed,including my daughters. Let's home this is the last snow fall until after Christams!


• United States
16 Dec 07
Lol,I hope you enjoy yours too! I like it but not quite ready to take my little one out to play in it,not until it stops,I think sometimes tonight