Chocolate Wedding Cake...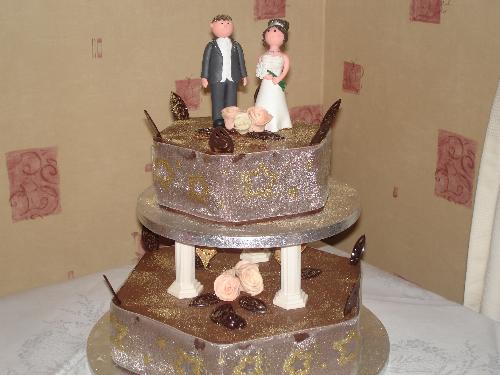 December 21, 2007 6:25am CST
Well, as mentioned in my other discussion re. my Granddaughers Bratz Cake, I had to present an all-chocolate Wedding Cake the following day, to friends of mine, who were married in Antigua a couple of weeks ago, and had a Wedding Party at the pub, last week. This was my first attempt at a chocolate Wedding Cake, so I was nervous to say the least. I decided gold would go well with the chocolate colour and brighten it up a bit, so gold butterflies were placed on the bottom cake, together with a couple of roses and chocolate leaf shapes. Unfortunately, in carrying the cake the fifty yards down to the pub, it appears that one of the chocolate decorations got broken off the front corner of the bottom cake, which I didn't notice, but on the whole, apart from that and the blobs of chocolate coming through the ribbon... it turned out pretty well. Unfortunately, I didn't get to taste a piece, as only the bottom cake was cut, saving the top tier for the hubby's birthday, on Boxing Day. lol. Nevertheless, the bar staff managed to get a piece of cake and they said it was delicious, and so, put my mind to rest. I used chocolate flavoured roll out icing to cover the sides of the cakes, and melted down Cadbury's chocolate to flood the tops. Then I sprinkled with gold petal dust, which seemed to work quite well. I rather think all-chocolate might be a bit rich for me, but the hubby was chocolate mad, so the bride asked that he have what he liked!:)
7 responses


• Canada
21 Dec 07
That's what I was thinking too when I took a look at the cake. She always makes a perfect cake for the occassion. Now I am going to go back and comment on the pic.


• Canada
21 Dec 07
There you are! I have been wondering where you have been. Sounds like you have been keeping yourself busy. I haven't been online a whole lot lately either with needing to get stuff done in time for Christmas. I have missed you friend. The cake that you made looks really great hun, great job! Merry Christmas hun! Luv & Hugzz, PurpleTeddyBear.

•
21 Dec 07
I've missed you too, my friend. Not only have I had the cakes and Christmas to get ready for, I have taken a weekend bar job as well, and tonight, I'm off to a Darts Team Christmas Dinner which I organised at the pub. So... gonna have some fun and relax awhile before work tomorrow. lol. Brightest Blessings come with all best wishes for Yule, Christmas and the New Year, with much love. x

• Canada
22 Dec 07
Wow! You are busy! Merry Christmas and best wishes for the New Year Sweetie!


•
22 Dec 07
Well good for them - I hate ordinary wedding cake and I would hate to have to have one just because it was 'normal'. Luckily I got married in Greece and the wedding cake there was totally different and so yummy! I bet the cake was delicious as well as beautiful - I have every faith in your cakes and one of these days I will get a chance to taste one i am sure! Hugs xxx

•
22 Dec 07
I feel at some time, that I'm going to have to bake a batch of cakes for my friends in Scotland, and make the trip myself, to ensure that they get there in one piece! lol. That's my excuse, anyway! :) I've never been to Scotland, so it would be nice to have to tour round, bringing cake! Nice to see you again, my dear friend... Merry Christmas and a Happy New Year to you and yours. Brightest Blessings... always. xx

•
22 Dec 07
It would be great to see you here honey and you would be welcomed with or without cake! Mind you if I tell the kids that it is you who make the cakes they would pester you til they got some! lol Best wishes my darling - have a wonderful Christmas! xxxx

• Singapore
24 Dec 07
Merry Christmas, Darkwing. Perhaps I am from the pampered generation believing everything can be readily bought. I just find it unbelievable you are tasked to present a wedding cake, 2 tier too. It must have been tough for you :P I bet the ability to "recycle" the top tier makes it worthwhile the effort. lol.

• United States
21 Dec 07
Hi, that sounds so pretty, and I am sure it tasted good. I have been missing you around, and I am glad to see you back. Of course I have been missing in action myself and it shows in my inbox. Cadbury's is very rich. I have seen weddings that had traditional wedding cake, and a chocolate cake as well, that they called a "groom's cake". Traditions change from region to region and year to year.

•
22 Dec 07
He he... I see the Groom is regarded as the darker of the couple! :) Only joking, yes, traditions change all the time. It's the same with the Wedding services now... there are more civil weddings than church ones, it seems. Brightest Blessings, my friend, and it's good to have a little bit of time to come back and see you all. This is a busy time of year as it is, but I've taken some weekend bar work as well, which cuts time. It keeps me fit though! :)

• Uganda
21 Dec 07
This is a great sense of inventiveness on your part my dear friend, the idea of making wedding cakes out of choclates have never been heard of in my country. i think it is one idea I need to take up so that I surprise my countrymen with-it could even be a money making idea for me here. Thanks alot.

•
21 Dec 07
Thank you, Academic... in fact, we do have a professional shop which makes all chocolate cakes, in Brighton, on England's south coast, but, they don't use pillars to separate... they lay the cakes on top of one another, and use fresh flowers to decorate. For a three-tier cake, they charge £825 sterling, which is exorbitant, so it pays to get into chocolate... if you get my drift. They are quite expensive to make, but nowhere near that much! Brightest Blessings my friend, and you're welcome. Good luck with it.


•
26 Dec 07
Yes, I think it turned out pretty well, because the Chocoholic Bridegroom told me it was delicious. lol. As long as he enjoyed it, that's all that matters. Brightest Blessings, my dear friend. I hope you had a good Christmas Day with your kids... take care, sweet lady. xxx