Holiday Plans Changed

United States
December 22, 2007 11:09pm CST
Well originally our daughter, her husband, and the grandsons and our son were coming over Monday and staying overnight. We were to have a big Christmas Morning breakfast then open packages. Well my daughter called tonight with an apology. Seems she had forgotten that she agreed to allow the ex husband to keep the kids until Christmas morning. So now the plans are that they are all coming over tonight (Saturday), excpept our son. He will be here in the early morning. Then everything will be held Sunday morning before the wife & I head to the casino. So Christmas is 2 days early for all my family this year. Gifts are going to be opened Sunday morning as well. Just wanted to let you all know. I won't be on here at all Sunday as I'll be at the Casino in the afternoon and busy with family in the earl morning. Have you ever had plans changed at the last minute for a Holiday celebration? Share please. HAPPY POSTINGS FROM GRANDPA BOB !!~
9 responses


• United States
24 Dec 07
Thanks bunches. The drive to the casino Sunday afternoon was horrendous to say the least. Ugghhh! HAPPY POSTINGS FROM GRANDPA BOB !!~

•
23 Dec 07
At least you are still gonna be able to spend time with the family! It says a lot about your family AGB that you take these things in your stride and it doesn't cause problems - totally in the spirit of Christmas! Hope you have a great time, Hugs xxx

• United States
24 Dec 07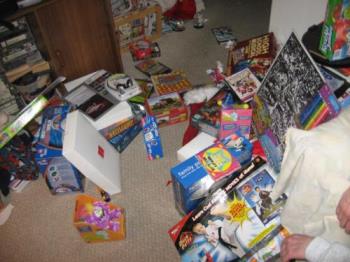 Had a blast actually. Here's a shot of the "pile" of the granddsons gifts. Typical kids, they opened them and tossed them anywhere. HAHA! HAPPY HOLIDAYS FROM GRANDPA BOB!!~

• United States
23 Dec 07
Usually my son and his family come on Christmas morning. My daughter in law wanted to change things this year...and all of Christmas would be spent at the different celebrations her family has.....but I wouldn't budge. You see I am the one they come to when they need something....I am the one who babysits....and borrows them money. I deserve to have my time with my son and granddaughter. I love my daughter in law but she caves in to whatever her mom wants because she is afraid to stand up to her. I however will not give in about this..her mother is not someone they can rely on. And normally I would be more then willing to give up something or bend over backwards to make everyone happy. But Christmas is my thing! And I deserve to have time too. So we worked it out and they will be here on Christmas morning.

• United States
24 Dec 07
Good for you putting your foot down this way. GRATS!!! HAPPY HOLIDAYS FROM GRANDPA BOB !!~

• United States
24 Dec 07
Well...the plans changed! They called this afternoon and are staying overnight here tonight too!!!! I am so excited! I get to get up on Christmas morning and be with my little granddaughter. I had her overnight last night and they had to go to another Christmas but she said...I'll be back in a little bit Grandma!! It's so nice my son also had a hand in it! He said....she loves you so much it's nice that she can be with her grammy on Christmas Eve!!! Merry Christmas Grandpa Bob!

• United States
24 Dec 07
Yes, this has happened before and this is why this year I am just winging it. Whatever happens, happens. I know I will go visit with my mom at some point and time and other than that, I am content just to sit here in front of the pc responding to discussions that friends like you start.

• United States
24 Dec 07
That's how I look at it as well. What ever transpires so be it. HAPPY HOLIDAYS FROM GRANDPA BOB !!~

• United States
24 Dec 07
It was fun dad thanks for not being mad at the last minute changes. I didnt think you would be just meant you got your presents early hehehehe. Oh and we all say thanks again. And the boys are playing guitar hero now they love it.

• United States
24 Dec 07
No problem. I love ya girl. HAPPY HOLIDAYS FROM DADDY!!~

• Singapore
24 Dec 07
well at least you managed to work out a mutually acceptable situation. which is good. hope you had a super time on Sunday celebrating with the family. Hope your dad had a good time too. As for me, I changed plans last minute yesterday too. It was sunday and I was supposed to turn up for an extended family gathering (think total of 40 people type thing) after church. But in the end since we had a dinner appointment quite early in the evening and church ended rather late, I decided to send our apologies for that lunch. Think i missed seeing the newest addition to our extended family through. A wee new born just a few days old!!

• United States
24 Dec 07
My wife and I were only here till noon as we headed out to the casino. But we were up by 8 a.m. HAHAHAHA! It's over till next year. Hee hee! HAPPY HOLIDAYS FROM GRANDPA BOB !!~

• Canada
23 Dec 07
Mine don't usually change Grandpa but this year they have due to an accident my aunt had about a month ago! She is visually impaired and thought that she could take a roast out of the oven...only she misjudged and has bad burns all over her legs and feet now!! she is house bound due to this and will likely be another eight months healing - including skin grafts! Due to this we will be taking dinner down to them on Christmas day rather than eatting it at my Mom's. We're just glad to be together this year as my Uncle had a heart attack in August (we nearly lost him then) and a couple months later my Mom was diagnosed with high cholesterol! Wishing you a very Merry Christmas! HUGS ~Heavens~

• United States
24 Dec 07
Ouch! Sorry to hear about Auntie. Hope she hels very well also. Had to be very serious in order to be getting grafting done. Yowwww! HAPPY HOLIDAYS FROM GRANDPA BOB !!~

• United States
24 Dec 07
For 20 years I worked as a nurse so most of that time I had to work one or both of the holidays so we would change the holidays to happen around my work schedule. December 23 1996 I had a hysterectomy and I knew I would be in the hospital for Christmas. We had our christmas on December 22. We had to learn to be flexable and our children did not care as long as they got their gifts early. LOL

• Australia
27 Dec 07
Yes, my plans for this Christmas were changed at the last moment, when my husband lost his block over his sons behaviour. He cancelled Christmas with my family. I dont think they were too impressed. A bit silly of your daughter not remembering that her ex had the kids for Christmas. Still, I bet they had a good time at your place & loved their presents.