Do you remember the Lady and the 237 dogs!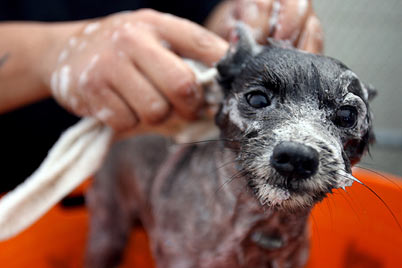 Malaysia
December 23, 2007 5:07am CST
Do you remember my previous post about the lady and the 237 dogs? well, I have something special for you now. I managed to find the picture of one of the dogs that was taken away form the lady!Just look at how cute that dog is! You would want to have one once you have seen them! Enjoy! Here is the caption on the picture: A Pomeranian gets a bath Wednesday after animal control officers removed it from a home that was overrun with dogs in Corpus Christi, Texas. The pet was among 237 dogs seized at the home of a 70-year-old woman.
3 responses

• Canada
23 Dec 07
I remember your story, and i think that its great all those dogs are getting cared for, it probably makes that lady feel better that she ended up giving them all up. Or did they just come in and take them from her ? i cant remember the details.

• Canada
23 Dec 07
Yea but did she call the authorities cause she understood she couldnt take care of them? or did someone else report her ? I think i remember assuming from your other discussion that she called them, or got them help.. but my memory isnt' THAT keen :P

• United States
23 Dec 07
Thanks for the update on the story. Hopefully they will be able to save the majority of those dogs and find them good homes. Usually in cases like that, they have health issues and it makes it hard to place them in homes. They deserve a chance.

• United Kingdom
23 Dec 07
Yes, I remember your interesting discussion about the 70 year old lady with 237 dogs. Thanks for posting a photo of one of the dogs. He or she looks like a really adorable dog. It is wonderful to hear that the dogs are getting cared for. I hope that the lady was allowed to keep just a few of the many dogs.