Meet Our Newest Addition to The Family!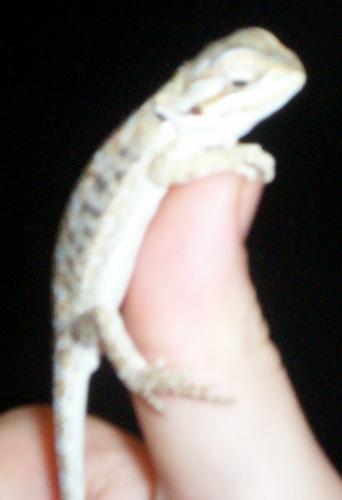 United States
December 23, 2007 10:43am CST
This is our new Bearded Dragon. He is about 2 weeks old. We just got him last night. Isnt he just the cutest thing? LOL. He has a really neat blue color in his stripes. He is very nice so far. He lets me hold him and pick him up. He ate 3 little crickets last night. Now I just need to think of a name for him. We seem to go with the car theme when we name animals. We have another Beardie named Piston, we had one named Lug Nut, and our Pup is named Hemi. My husband is a mechanic hence the names. I was thinking of naming him Ratchet, Gasket or Spark Plug. LOL. What do you think? Do you like any of thoses names? Any suggestions for names? Thanx in advance and Have a Merry Christmas!
5 responses

• United States
23 Dec 07
Gee! I would not necessarily consider that as a pet but you made it sound and appear so cute. :-) I like Spark Plug most out of the three. Sounds so cheerful and almost goes well with the festive season. Merry Christmas to you too!

• United States
24 Dec 07
LOL. They do make good pets believe it or not. I like Spark plug best too. I think thats what I might decide on. Then we could call him Sparky. LOL. Thanx and have a Merry Christmas!

• United States
27 Dec 07
Oh my gosh, he's sooo cute!..and so tiny, what an adorable little guy, lol! I think all the names are really cute for him and I can see him being called any one...I especially like Hemi for your pup though, haha. I use to have a truck with a Tonneau cover...why they call it that I'll never know...but how about Tonneau?..just a thought....have a great day!

• United States
27 Dec 07
What a little cutie pie....How about naming him screwy?....LOL...


• United States
24 Dec 08
Aww, he's so cute. Reminds me of my bearded dragon (Grendel) when I first got him. He could fit in the palm of my hand, now 4 years later he is a handfull. Bearded dragons are definatly pets and make a great addition to the family. You have a really cute dragon. Mine has a lot of color in him. I also have a tegu and 5 year old iguana. ~Melanie