Christmas Eve Comp From Mystic Lake Casino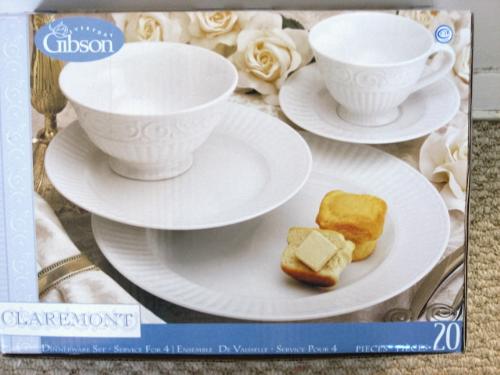 United States
December 24, 2007 12:40pm CST
As my friends here know the wife & I went to Mystic Lake casino & HOtel in MN Sunday. I was comped the room. Also as a gift for returning guestlike myself they also comped me a 20 piece set of dishes. The attatched photo is this set. Not a cheap set either. very nice. It's service for 4. 4 Dinner plates, 4 dessert plates, 4 cups, 4 saucers, and 4 cereal bowls. The great thing is that I was also informed that they have more to this same style set for january & Februray comps. Janurary will be a tea set with teapot, sreamer, sugar bowl, gravy boat, and a soup server with ladel and lid. Februarys comp is a 4 peiece bakeware set. Once my wife saw the dish set she said, "We have to get the rest of this set." HAHAHA! She hates gambling too but wants to return. Okay once again what is the nicest thing you've ever been comped from a csino or that you've ever gotten as a gift or prize? HAPPY HOLIDAYS FROM GRANDPA BOB !!~
4 responses

• United States
24 Dec 07
The dishes look really nice, I see why your wife wants the rest of them now..haha! We don't get many comps here but monthly we get $5- $25 free play, depending on what you spend the month before. They offer a discounted room rate which is usually one half price. We usually stay at the campground though with our travel trailer. Enjoy your next visit and I hope you wife gets the rest of the set!

• United States
24 Dec 07
That's how they all work as far as the cash comps. Starting in January they have a new set of things. It's called instant cash. After earning points each day you can cash in the points for the cash comps if so desired. I don't know if there will be an expiration date or not though. I get the checks monthly just as a Gold card member without spending anything also. She will be getting the rest I am sure. I have free rooms for each week in Janurary. Hahahaha!! HAPPY HOLIDAYS FROM GRANDPA BOB !!~

• United States
26 Dec 07
The bummer is that my wife works Mondays through Saturdays and the rooms are Sunday through Thursdays only. So If we get the rooms I have to be sure she gets to work by 11 a.m. But we WILL be going back. I love the comps. HAPPY POSTINGS FROM GRANDPA BOB !!~


• United States
27 Dec 07
I've never been comped anything from a casino. I do not gamble. I guess you have to go to the casion's before you can get comped. LOL I did go to Reno in October and won 45 dollars. I felt lucky then.

• Singapore
27 Dec 07
I've not received any complimentary gifts from casinos. probably cos i don't go regularly enough. I hope you spend your entertainment budget wisely at the casinos. Cos for some people who lose a lot there, the amount of money they spent could probably have bought them two sets of that nice service for 4. But i think you're sensible, so hopefully it's a net gain for you!

• Australia
27 Dec 07
Lucky you! Or your wife I should say. I looked at your photo & it is indeed a nice dinner set. I could do with more dinner sets. Ours get broken in the dishwasher.