Bowl or Tap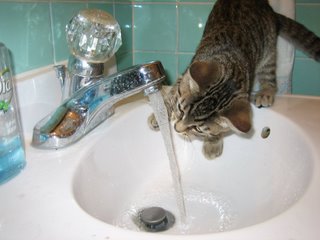 Canada
8 responses

• United States
25 Dec 07
My cats love ice cold water and they will drink right out of the toilet. LOL I see them drinking out of my piss bowl. LOL them I go to the kitchen and turn on the pipe. They both come running to the bowl they know is waiting on the floor.

• Canada
25 Dec 07
i have tried the bowl but no luck, it could be since she is a stray she is use to finding water where she could and this was the easiest. The fresher the better. I have seen tthose fountain machines out their but I have a friend who has tried one and the cat was terrified of it for it made more noise then it liked.

• United States
25 Dec 07
I think most cats will get used to the fountains. Just don't push the issue. Buy the fountain, the ones I have seen don't make that much noise, so I wonder if your friend's fountain had a malfunction... Anyway, if you get one, rinse it off thoroughly, and put it on the floor, near the cat's food, but not too close. Leave it turned off at first, so she can feel comfy sniffing it and checking it out. Then add some water and turn it on, but leave the other water source that she is used to out for her, until she is regularly drinking from the fountain. If she really revolts and won't try it at all after a month, let me know and I will help you get her used to it. But if it is not a bother for you to turn the faucet on for her several times a day, then that is maybe easier/cheaper!

• United States
25 Dec 07
My cat will drink out of a bowl, but not her own she drinks out of the dogs bowl and the dog drinks out of the cats bowl. lol

• United States
25 Dec 07
You should really invest in a cat water fountain. Cats like really fresh, cold water. The fountain provides all that for them. Our cats still occasionally drink out of th sink if we leave it running, but they don't cry or annoy us to turn on the sink for them anymore.

• Canada
25 Dec 07
Jingi now has figured out how to turn the tap on an off and if I forget to turn it on for her I usually find it on in the evening.....


• United States
25 Dec 07
My cat drinks from the bowl, but she likes clean water. I change her water at least twice a day. I have big bowl for all animals at once, easier to maintain and they are OK with it...

• United States
25 Dec 07
My cats LOVE to drink from the tap, or even from the bathtub! They will sometimes ask me to turn the water on for them. But they also drink out of their water bowl. I feed them almost all dry food, as vet recommended, and that keeps them drinking well, which is important to their health -- cats tend to not drink a lot in some cases. But they INSIST on fresh, clean water, if it is in a bowl. My cats are silly and love to drink and play in the bathtub, as long as the faucet is on just a trickle.

• United States
26 Dec 07
My cat will do both but here is the funny thing if i go to the bathroom he will follow me jump in the tub and wait for me to turn on the water to a trickle and then procede to drink the water from the spikit it's the funniest thing ever. He also jumps in the shower with me if he thinks he's to dirty. It's quite funny .. He's completely white and I think he has OCD about staying clean. It's quite funny actually. have a nice day.

• United States
26 Dec 07
My one cat drinks out of the tap occasionally but he also drinks from his dish and from my other cats glass. Sissy, who is the one we had first, has her own glass which we must keep full of fresh water from the refrigerator. My brother once filled it with tap water and she turned her nose up in total disgust and walked away like "Who do you think you are?" My daughters cats drink only out of the taps. Annie