the best 007 ever!!!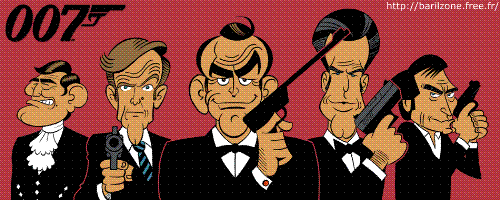 Canada
December 27, 2007 1:30pm CST
Up to now, we have seen 6 actors portraying James Bond. My favorite has always been Sean Connery. He was by far, the best Bond ever. How about you people, which one is your favorite?
2 responses

•
27 Oct 08
With the opening of the latest Bond film, it seemed a good time to return to this topic. This will be the twenty second Bond film, so no surprise to learn that it is by far the longest running and most successful film franchise. Factor in the fact that six actors have played the lead in the forty six years that the film has been running, and that puts the original question into perspective. I would suggest that the personal favourite would have to be the one you fell in love with, or wanted to be! One could also link it to the actor in place during your favourite time period, because for example, Sean Connery played the first Bond from 1962 to 1971, with George Lazenby doing one film in 1969. Then Roger Moore took over for the longest run, seven films from 1973 to 1985, which explains why he is favourite for a lot of people. Timothy Dalton suffered in comparisons, after two films in 1987 and 1989, so Pierce Brosnan recovered some of the popularity of Connery and Moore during his four films from 1995 to 2002. The other interesting thing, of course, was that the stunts and special effects had to be better every time, which is why Daniel Craig suddenly became a super star....because he came up a beach in a pair of swimming trunks, showing off his six pack, all part of the high temperature publicity machinery that surrounds James Bond! Whoever you pick as favourite, enjoy the latest offering....QUANTUM OF SOLACE!

•
28 Dec 07
Sean Connery is a good James Bond, but i wouldn't say he was the best. In fact i think most people think of him as the best simply because he was the first - therefore all the other James Bond's are compared to him. My favourite James Bond is Pierce Brosnan. He is both entertaining and swarvy enough to be a brill James Bond, not to mention that he also brought a much needed "update" to the character, he made a much more modern James Bond, very fitting for the last two decades!!

• Canada
28 Dec 07
You make an excellent point, I never looked at it that way. But even after you saying that, I still prefer Sean Connery. His style was perfect for the James Bond of the "cold war era", but not for these modern days. That is why you are right that Pierce Brosnan makes a more modern James Bond. However, I liked the older plots of the older Bond movies better.