A new cat?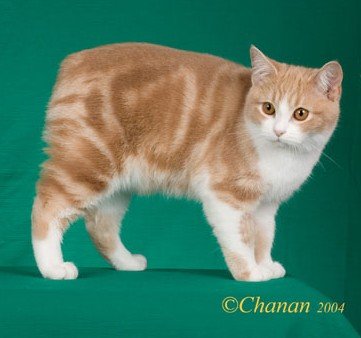 Canada
December 28, 2007 1:47pm CST
Well, I was sitting here at work today a little bored so I started cruising the free classifieds and I came across an ad for a 1 year old female manx cat. I grew up with Manx, and my first kitty love was a cute little grey and tan female named Angel. So imagine my surprise when I read the ad and discovered that this little girl is almost identical in color to my late 'Angel'. So now I'm a little torn. I feel so strongly that this is a sign to me and that this little girl should come live with me, but I'm also worried because my cat doesn't get along with other cats, and actually just recently stopped trying to beat up my roommate's on a whim. Should I follow my heart and give this girl a new home or should I just consider my current girl's happiness and forget about it?
10 responses

• United States
29 Dec 07
This is a hard call since there is enough of you to go around. I would say though, that since your cat has issues, it is best to let it go. Someone else is sure to fall in love with her and take her home. We had a cat that beat up on our new girl and she was a mess. She wet the floor and was all panicky (she too was a Manx). It isn't worth it if you know that this could be an issue. Both cats would be unhappy, not just your current baby.

• United States
28 Dec 07
As a cat owner myself, I see the dilemma. So sorry you feel torn. If you really feel a connection can be made, give it a shot. If your current cat doesn't interact well with other cats you may be asking for trouble. First I would talk to your vet about how you might introduce a new cat into the home. You might try contacting the person in the classified and seeing if the two of you could work out a trial to see how your current cat and the manx may get along..Good luck cats are very territorial. You'll need to really work out the kinks on this one.

• United States
31 Dec 07
First, are you sure your cat doesn't like other cats? Is it possible that he is trying to play with your roommate's cat? I have seen cats who just try to play too much or too rough, and it looks like they are fighting, but really they just want a playmate. Also, how long did it take for the "beating up" to stop -- a few weeks? a few months? a few years? That makes a difference, because most cats need a few weeks or a few months to adjust to any change, especially another cat -- but that doesn't mean that they don't like other cats, just they need time to adjust. Usually, if cats are really stressed and unhappy about another cat or too many cats in the home, there is a problem with inappropriate elimination -- have you had those problems while your cat was learning to accept your roommate's cat?

• Canada
31 Dec 07
No elimination problems. I think she's too much of a lady to try anything like that, but I'm 100% certain it was aggression and not play. She'd lay her ears back, give a deep growl, hiss and swipe at him if he came within 6 feet of her. If anyone besides me tried to pick her up they'd come away with big nasty cuts on their arms for the favor. I got a deep growl and a pissed off kitty spit, but she's been my kid for 6 years and she's never tried to hurt me unless I inadvertently hurt her. She actually attacks the window if another neighbourhood cat is in the yard and in eyesight, so I think that's a pretty good indication that she does not like other cats. And as for the length of time it took.. Zeus (my roommate's cat) is now 16 months old. We've had him since he was 3 months, and just in the past month, she has started to tolerate his presence. Thus my apprehension. It took over a year for her to acclimatize to him.


• United States
31 Dec 07
If it were me, it would give me nightmares if I didn't bring her home. My heart goes out to you! I would be so afraid to leave it to chance. There is a product out there that I have used before (successfully) that I can't remember the name of, but can tell you that although it sounds weird, it's like the plug-in type air fresheners, but it emits happy feline pheremones. Speak to your vet or someone at Petsmart about it. I also have a Manx named Nova who is now 2 years old. He was a rescue, and only 4 weeks old when we brought him home. Our other two cats were litter mates, l and l/2 years old at the time. I used the pheremones to help, and the transition was really pretty seamless although due to what, I don't really know. Manx's are amazing little critters, so much different in a lot of ways than our other cats. So you might give it a try - I'd think it'd be worth it. Best of luck!!!!! Maybe you could keep us posted as to what happens. I'd love to know.

• United States
31 Dec 07
If you do decide to try it, there are better and not so better ways to introduce the new cat, so write and let everyone know to get some ideas.

• United States
31 Dec 07
IMO, cats always do better in pairs. That way when you're gone, your kitty has someone to play with or just to be near. Go for it! Every kitty needs a home!

• India
4 Jan 08
Kitties are of course lovable. There is an idiom, has the cat got your tongue, said to somebnody, especially a child who stays silenct when expected to speak, for example being asked a question. It shows so silent they are.

• India
4 Jan 08
I think there are som many idioms realted to cats, let the cat out of the bag, to tell a secret carelessly or by mistake. Like a cat on hot briks, very nervous people are represents this.

• India
4 Jan 08
Well, cat a small animal with soft fur that people often keep as a pet. Of course it is a pet. but it is helpful too. It catches and kills the mouse.It also guards our home.

• India
4 Jan 08
I have a kitty which is very cute to see with white and black colors. I like it because it is like one of my family members. My kitty's parents are also living with us. I gave him a name mitttu.