green or purple cabbage?

India
December 28, 2007 4:10pm CST
Till last month I had never even bought a purple cabbage and once I got it, I just can't stop buying it every time we shop for groceries. Green cabbage is of course more commonly used and is less expensive also but I love the way purple cabbage brightens up the whole meal by its sheer color and it tastes great too ! I stir fry it in olive oil with salt, pepper and some Italian herbs just for a minute and add some vinegar to add a bit of zest to the dish. Its a great side dish, try it !
7 responses

• United States
18 Mar 08
I prefer purple cabbage, but I have to make hard choices which vegetables I eat to control my carbs. I usually choose green cabbage because of this, it lets me have a greater variety of other foods later, when it comes to having lots of green cabbage and strawberries for desert or a snack later on or choosing to purple have purple cabbage in a smaller amount the choice is a no brainer for me.

• United States
18 Mar 08
I have not tried purple cabbage cooked before... I do like it raw and sliced into green salads and coleslaws in addition to savoy cabbage... I also really like to eat the mild nappa cabbage raw - but as of yet not tried it cooked. I also like the purple cabbage when it is pickled like a sauerkraut.

• United States
18 Mar 08
I love both types of cabbage but I've only had the red cabbage raw, in salads. I want to try your idea for stir fry though. Sounds really yummy!

• Philippines
12 Jan 08
i also prefer purple cabbage. however purple cabbage here in our country is more expensive compare to green cabbage so i use purple cabbage for some occasions

• United States
30 Dec 07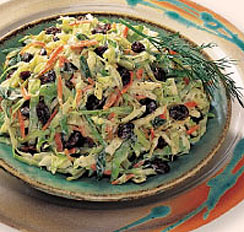 Here in the United States you can buy mixed greens for salad and ome alwayys have both purple and green cabbage as well as carrots. Your recipes for the cabbage sounds really good. raw cabbage is very good too. We here put a dressing on it as a regular salad and call it cole slaw. it is fimely chopped or sliced and also can contain both purple and green caggage as weill as carrots, raisens or apples.