New teapot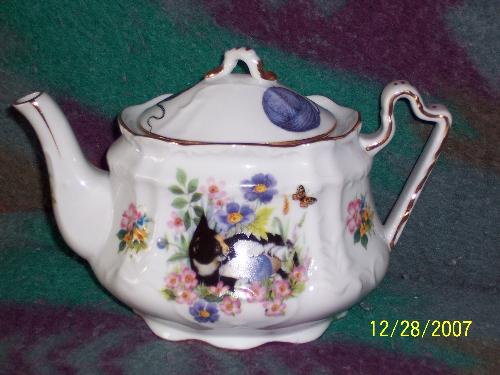 United States
December 29, 2007 12:57pm CST
I got this other teapot from another friend. She gave it to me because of the cat playing on the outside with yarn. The cat reminded her of Abagail my kitty who has to have her own yarn and knitting needles because she won't leave mine alone when I knitt. What a spoiled kitty. The teapot is sure pretty.
3 responses

•
4 Feb 08
Isn't that sweet? I'm so touched just hearing about your friend giving you that teapot with the cat. If only you live near me I would give one set as well because there's too many of them in Bangkok where I used to live for six years. Teapots are so cute and they look adorable to me. Now, I know what I would buy when I go back to Bangkok soon.

• United States
5 Feb 08
I would love to visit Bangkok alas I need to save my money first. Thanks for your comments on my new teapot. I do feel lucky because I have some wonderful friends. One of my friends collects owls and the other one collects moose stuff so we are in the lookout for those items. When I went to Idaho with my twin sister I found a cream and sugar bowl with a moose head on them. I know it sounds stange but they are so cute I had to buy them.

• United States
31 Dec 07
Aww--that teapot is so beautiful. LOL--You give Abagail her own yarn and knitting needles..mm...wonder if you could teach her how to knit something..hehee

• United States
2 Jan 08
Abagail is going to knitt me a coat just ask her she will tell you. LOL. she is one spoiled kitty.

• Turkmenistan
29 Dec 07
Kitty? What do you mean kitty? That big O thing is a cat. Kitty sounds so little, neat, and cute. Those babies that you have are extra big cats. Okay, but they are still cute though. I have not seen your new teapot, but I know it is nice and I am looking forward to seeing it right about now.