i need a guard dog

United States
October 29, 2006 10:27am CST
i need a dog, no joke this morning was the worst i can imagine. people warned me about how everything would change after i had the baby. they were right. i'm a freakin bag of shot nerves, who gets paranoid over every@#%ngthing! I woke up and heard "noises" and saw "lights" flashing around the house and that was it, i was done for. there i was, pathetically shaking and panicking in bed... had there really been a predator, i would have put my sons life at steak because i was too busy freaking out :( it was awful, and if i werent typing one-handed i'd go into more detail. i called my mom, and when she couldn't calm me down, she called the police and came over. uuggghhh, how embarrassing! bottom line, i need a dog pronto! not one i have to train because i just dont have the time right now...
6 responses

• United States
29 Oct 06
Try going to a pet adoption center, and perhaps you may find an older (but not too old) dog who's previous owners had to give up. Make sure the dog is good with babies!

• United States
29 Oct 06
yes, i'd definately like to rescue a dog from being in the pound or pet store... Its so hard to tell if they'll be good with babies though. every dog has its snapping point though i guess... thanks for your input, i will definately be calling around tomorrow, whether my boyfriend likes it or now, lol if he wants to go out of town all the time, i need some sort of security! :)

• United States
1 Nov 06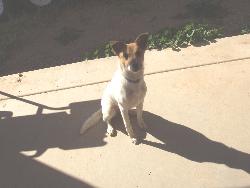 well i got a beautif dog off of Craigslist....i just need to potty train her a little better


• United States
3 Nov 06
We got a big dog, and while I doubt her actual guarding capabilities (she's more likely to knock over any potential predators with kisses than bites), I do feel safer with her around, knowing at least she can hear and respond to things better than I can. And she is kind of scary looking, so maybe if they saw her they wouldn't bother coming in.

• United States
3 Nov 06
exactly... i think Inarah is too loving to actaully hurt somebody too. I just know that dogs can sense danger long before we could. I know she can alert me if I have anything to worry about :)

• United States
3 Nov 06
well you go and get a dog if you need it well this is my bonus post for today are you born again do u think you are saved u dont then you need to be born again that is it for u and secondly do u think you spend too much time on the internet if you think so then you are making alot of mistake and u need to start using mylot and you will see you are wasting no time then thirdly the mylot money making formular it is nothing more than posting big and you will be earning bigly

• United States
3 Nov 06
German Shepherds are great dogs, they are so loyal to the family, and they will protect you if they ever need to.

• United States
3 Nov 06
thanks for your input! I always thought they were beautiful and smart too :)


• United States
3 Nov 06
i dont support dealers or breeders, but thanks anyways