Have you seen the I Dog? Awesome little guy!!!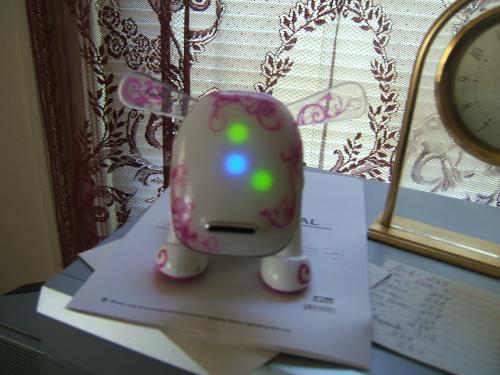 United States
December 31, 2007 10:24am CST
Vicky got an I Dog for Christmas and I just connected it to my cd player for her and this little thing is so adorable! I think it was a perfect gift for her since she's so into music and she loves dogs too. He's sitting there tapping his paw, wagging his tail, wiggling his ears and lights are blinking off and on to the music! Now that I've read the directions (after the fact...lol!) I see that it even has it's own built in music too. He also has a little pink carrying case that his head sticks out of and holds the usb cord and directions. I don't know what my daughter paid for this but whatever it was I'm thinking it was well worth it! Have you seen the I Dog? Do you know anyone who got one for Christmas or did you get one yourself?
8 responses


• United States
31 Dec 07
I have never seen a real I-Dog, but my son has been talking about them ever since he got a cheap little toy one in a kids meal at Burger King. The one in the kids meal looks like a smaller version of an I-Dog, but it does not do anything.

• United States
31 Dec 07
Your son would probably love it then! If he likes music at all it can be plugged into a cd or dvd player plus it has it's own music. This one is pink but I guess they come in blue too ...for boys!

• United States
1 Jan 08
My nephew got one a few years ago for his b'day. I thought was the cutest thing, I think there is now an iCat too and I think you can buy other accessories for your iDog too. It is amazing the industry that was spawned by the iPod isn't it?

• United States
1 Jan 08
Wow, ctry, that sounds like the perfect gift for a little music lover! I had not heard of the I Dog before, but it sounds pretty cool. It's great that your daughter had the foresight to pick such a lovely and apt gift for Vicky. Bet she'll take really good care of it.

• United States
31 Dec 07
Wow, what will they think of next? How cute! I'd never heard of the I-Dog before today. What a neat little device. Canines are by far my favorite animals, so this would be perfect for me, as I also love music. Thanks for bringing this new product to my attention! Happy New Year!

• United States
31 Dec 07
No i must have somehow missed that one.It sounds adorable.I like dogs to.i have a game that i play on the computer and if you play the game and get something wrong he will jump up and shake his paw at you, cutiest little thing..He also flops down like he is tired if you take to long to play the next move..He does all kinds of things and i enjoy watching the dog more than playing the game..The next time i am shopping i will look for it..I think that would be a great gift for my little small granddaughter..

• Canada
31 Dec 07
I have one of those, but its the older model from a few years ago. It doesn't tap its foot OR wag its tail lol. It just is a speaker, and it shakes its head and lights up. My daughter seems to enjoy watching it move when i turn it on, but it was expensive for what the little guy does.

• United States
31 Dec 07
I got one last year for my niece for Christmas. She loved it. She even asked for more accessories for it for Christmas this year.