Beagle Was Kicked Yesterday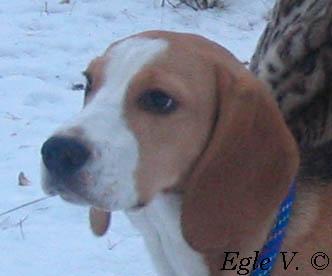 Turkmenistan
January 1, 2008 9:01pm CST
Last night right before my sister left for watch night at church, the Beagle (also his name) got out of the gate and ran in the street and was hit by a car. I loved that dog. He was just the cutest thing. They had three dogs, but he was the only nice one. Whenever he would catch me sitting down, he would run and jump up on my lap and want to play. The last time I saw him was on Thanksgiving. He had me smelling just like him, before I left. My sister has six children and the three youngest ones took it real hard. Kimberly who is fifteen, locked herself in the bathroom. She has this special relationship with animals. She is a little slow, but they love her and she just obsesses with them. She is the sweetest thing. But, when she was younger, I had bought home a kitten, she and the 12 year old Brittany would fight over the poor kitty. I mean literally playing tug o war with the poor little thing. Now Brittany, the most dramatic of the three, ran down the street screaming and hollering. I know that she adored that dog though. Not to long ago, when she came to visit, she insisted that I find a Beagle that looked just like hers, so she could dote over it. Ronald is the boy, he is fourteen and very sensitive. They said, he just spent the entire day walking around in a daze. All their mean father could do is yell and scream at them. I am glad I missed that. Children are know for being irresponsible and sometimes they do forget. I know that they did not let the dog out on purpose, they know better. I think that they were suffering enough. But, maybe that was their dads way of dealing with his own hurt. All I know is that I am going to miss the little fellow. I was looking for a picture of a Beagle to put on my desktop and I realized that all of them don't look alike. I found one that looks just like Beagle did. though.
7 responses

• United States
4 Jan 08
I am so sorry for their loss I know how hard it is to lose an animal. I send my prayers and thoughts to them all and to you too. Sometimes animals just get out and get hit by cars and it is no ones falt.

• Canada
2 Jan 08
That must have really hurt the family, them being the kind that are open and sensitive. When an animal gets run over by a car (when I read the title, I was looking for a story about someone kicking the dog) especially if the gate is not locked or a kid has left it wide open or a jar and not closed it when he came in. It does happen and that is why there should be a grown up watching all the time. I gather that the family did not have enough money to take the dog to the vet in case it could have been saved and that really hurts, wanting to do something and unable to do so because of financial restraints.

• United States
2 Jan 08
Awwww noooooo! sorry to hear about Beagle :(

• Turkmenistan
2 Jan 08
I do not know why I put kicked in the title. I was probably thinking about their father chasing the dogs out of the house. I think that the kids or coming to terms with what has happened. My niece Kimberly put his picture on Myspace and above it she wrote R.I.P Beagle. I sent my condolences and let them know that I love them. I believe that they will come through it okay.

• Philippines
2 Jan 08
Hi Rozie! Oh, that is so sad. Beagle is so cute and I do really hope the children will recover soon from their grief. It is really sad when you lose the beloved pet you have really loved and cared for and I do really hope that the children will grow stronger from this and will not stop themselves from loving and caring for another pet. Take care and have a nice day. :)

• Australia
2 Jan 08
That is sad, but i'm sure Beagle is chasing all the rabbits he can and jumping as many fences as he likes. I hope they are able to grieve and then remember him with fondness.

• United States
8 Jan 08
That's so sad, Rozie, and I'm so sorry especially for how hard it is on the kids! It's really a shame for their dad to yell and scream at them, even if one of them left the door open they obviously didn't do it on purpose and they feel bad enough already. It could be his way of dealing with his own pain, I agree with you, but he's the father, he should be trying to comfort his children as well because that's what parents do! I'm sorry I missed this when you first posted it. I've been playing catch-up since right before Christmas and now since I have my new Firefox browser it takes me less time to respond to all my friends' discussion so I'll be caught up eventually. Annie