How many of you have been using pc's long enough to remember bbs's?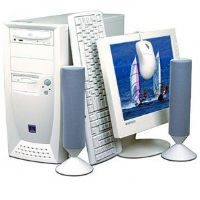 Canada
January 2, 2008 2:48pm CST
What did you used to do on the bbs's? did you run one or just log on?I used to play that dragon game, legends of the red dragon,.. lol ohh that was back in the day. Anyone care to explain what a bbs is to some of the other users that might not know?
7 responses

• Romania
3 Jan 08
My first contact with a PC was on a 286 with 8 mhz and 648kb of memory. Worked with DOS and the first game I played on it was Gpega. Who knows that knows what i'm talking about. I still love Old school games like Volfied, Golden Axe, Mario, Bomberman, OLD SCHOOL ROCKS. I even worked on computers that preceded the 286. It was something like a very boxy keyboard that you connect to a TV. Not even windows wasn't out in those times.

• Canada
3 Jan 08
I actually remember seeing someone use one of those before. They had to put a disc in, a FLOPPY disk, and type out a bunch of crap before they could play each game. lol. It really bored me at the time. But I had a 486 which i learned to take apart and add and upgrade on. I'm sure my mom LOVED that. If i remember correctly our old 486 cost close to 3000 when we first got it. LOL amazing.


• Philippines
2 Jan 08
I remember the first time I used computer and that was year 1992. It was a 386 PC and the first software I used is the Wordstar and Windows 5.1. All software I use is a DOS based and I used a 5.25 floppy disk. But now, I use an 8gb Flash drive and a harddisk of 500gb here in my PC with a QuadCore PC specs.

• Kuwait
2 Jan 08
Im using and old pc right know, but the windows is change,i love to plays games on it, but since my hubby brought a wii, just i log on, check mail & use for mylot even for my work actually.

• Halifax, Nova Scotia
3 Jan 08
i blame bbs' for getting me hooked on games with no graphics.. and perhaps even java games due to that.. those text based games were awesome though if you were down for the rpg's and step by step type games.. plus it was like a private little internet as opposed to now a days where online chat and game play etc is worldwide

• Halifax, Nova Scotia
5 Jan 08
i guess i dont play it much these days but as i have in recent years but dopewars is an awesome text based game.. i wonder if my crew is still kickin butt.. you can make teams etc and upload scores onto website etc.. youve maybe seen me on there when my comp used to be setup.. but ya java games and other gaming experiences definately kicked text based games outta this galaxy to make room for themselves


• Philippines
22 Dec 09
OMG I feel old! But yes, I remember BBS. In fact I used to play Legend of the Red Dragon all the time. I was so addicted to it. And I was so happy whenever I heard the modem handshake. I wonder if kids these days have even heard of a dial-up modem. ;-) Then I'd play in like 10 different boards. Eventually I started using the messaging feature too. It's kinda cool. I met a couple of friends that way.

•
8 Jan 08
bbs? I wish I knew, you know I don't keep tabs on all the short hand references. some of my friends talk like it in person and I'm like do you talk english!!! lol, I recall old games, especially ones which was on tapes. ~Joey