Unhealthy foods & bad diets - Watch what you eat!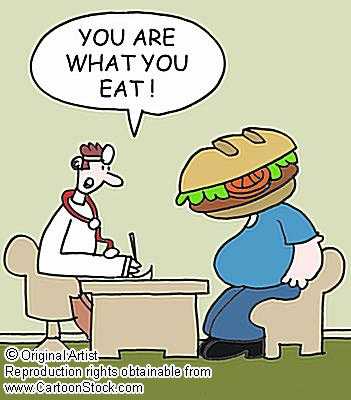 United States
January 2, 2008 4:00pm CST
It is ridiculous nowadays! When you turn on the TV what do you see? Look how many commercials promote dietary supplements! Look how many commercials that promote pills, drinks and a food program to stick to. Then you ask yourself - which one is legit? What do I do? For many years people like these promote these brands to make you think it is so easy to do. As if you pop these pills and then expect massive weight lost - not so! Unless you really put in time to exercise and eat healthy! I myself have tried several dietary supplements - Hydroxycut, Dexatrim, TrimSPA, Alli - you name it - even from eating healthy and exercise - these pills are worthless, but I'll say TrimSPA was a great outcome which helped me back then lose almost 100 lbs. Here's the reality if you want to have a good diet and lose weight - Buy a treadmill or join a 24 hour Fitness Center - start jogging or walking 30 minutes a day. Drink lots of water. Avoid foods and beverages with high sugar. Avoid foods with high sodium (salt) avoid fried foods, don't even put a hint to go to a fastfood place so you can grab about 5 whoppers to stuff down your mouth! Avoid food with lots of oil, avoid foods that have very high carbohydrates. Don't over-do the bread and tortillas. Try eating pretzels and avoid greasy potato chips or Cheetos. Try eating grains and oats, also certain fruits - try green apples instead of the red ones. Eat more on bananas and more vegetables. Stay away from sodas - and seldom drink diet sodas - Seldom! No one said it would be easy to do these that's why it takes power of will, motivation and eagerness to do it. Having the right companion that can encourage you and do the same with you always helps.
3 responses

• United States
2 Jan 08
Truer words were never spoke. The way to good health is through proper eating habits, and regular exercise. Habit may be the key word for many of us. We just find it easier to grab something that is handy, and not always healthy. I hear more and more about the importance of drinking water rather than soda or even juice.

• United States
2 Jan 08
Still on the subject of habit. These articles I've been reading, and even some news reports are saying Americans in general have the worst eating habits. It takes about 14 days for your body to make a good eating routine into a habit. The water drinking is top of my list.

• United States
2 Jan 08
Good discussion! Great points! So true. I'd like to add one point. Vitamins. Don't forget the vitamins. Too many people don't get what they need from the foods they eat.And if you don't like fish(like me) be sure to take a Omega 3 supplement like flax seed oil. It comes in pill form and goes down just like a multivitamin.

• United States
2 Jan 08
Thanks for the add in about vitamins. I take Centrum Silver I'll look into Omega 3. Thanks again!

• Philippines
2 Jan 08
Yes thats true. We need to watch our eating habit. It is good when we need to watch because it is good to our health. Sometime there are food are bad to our body like a more fat food. Fat food is bad to our health. It is better to eat more vegetables rather than meat.