TV or no TV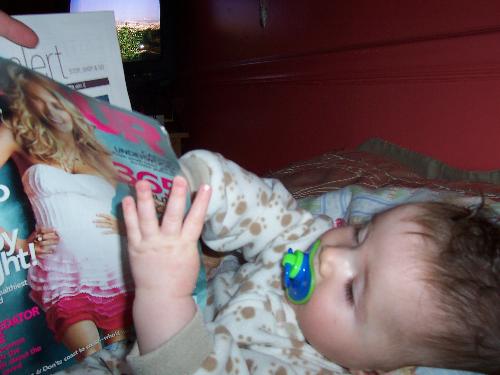 United States
January 2, 2008 4:19pm CST
My 6 month old loves watching TV. When I have to get something done around the house I slip him into his jumperoo and turn the tv on to PBS. However, some say that TV in young children and infants leads to ADHD because it teaches short attention spans. I personally feel that the cartoons are good for my infant to learn colors and shapes and loves watching the movement. But I think too much TV could be bad. What do you think?
6 responses

• United States
3 Jan 08
I don't see the big deal with TV. The TV was and always is on in our house. None of my kids were really interested in it until they turned 2. Just recently my youngest (who is 21 months) started turning it on and watching for a few minutes on her own. The TV automatically tunes to Noggin in the morning so as long as no one changes the channel that is what it is on. I, personally, love TV. I watch all the time and so do my kids so I guess I don't see the harm in it. If they are getting all unruly or fighting over it then I turn it off and send them on their way to play. There isn't much to do around here now that it is winter. It is too cold to go outside so they are stuck in for 5 months and we tend to get on each other's nerves. Plus, I don't know how I would get anything done around here if I didn't have a TV to keep them occupied, especially when my oldest 3 were all toddlers at the same time.

• United States
3 Jan 08
Wow I cannot imagine having 3 toddlers at once. My son is only 6 months and he's enough for me to handle. I think I'm going to have to stop reading so many mommy magazines and just go with the flow. The information is starting to freak me out.

• United States
3 Jan 08
Yeah, they are each a year apart (born in 6/2000, 10/2001 and 11/2002). When the youngest was born the TV was a necessity to keep the older too occupied so I could tend to the baby. I think all the parenting magazines and books just keep mothers from using their own instincts when it comes to parenting. I'm message boards and these new moms are freaking out because they don't know how to start feeding baby food. They ask questions like..."when do I feed them?", "do I do 3 meals a day", "how much?" etc. Just use a little common sense. They are so afraid of doing something against what the "book" says. I always just went with my gut.

• Canada
2 Jan 08
well i am not sure about that, but i have also heard that little kids under 2 should not watch tv...i am here to tell you that both of my girls watched tv (barney, elmos world and that sort of thing)and they have turned out ok (they are 10 & 14). i think it is fine as long as you limit it.

• United States
2 Jan 08
that's a relief! Is barney still around? I used to watch him when I was little!

• United States
5 Jan 08
Girl, let him watch TV. My 6 year old watched TV alot when he was smaller, from the time he was born almost. He could operate the VCR by the time he was 18 months old. He is the sweetest, smartest child. I don't like throwing around the ADHD junk, but he is not a hyper child and neither is my 3 year old.

•
4 Jan 08
I think its ok to let your 6 month old watch tv, because its not as if they are watching it all day long. My son use to like sitting in his chair watching "Roly Mo" and "Fimbles" when he was 5 months old. It wasn't for long, but it gave me enough time to get some cleaning done. He likes watching a few more kids programs now hes 19 months old and even now its only for a few hours a day and he enjoys watching them. ~Joeys wife

• United States
3 Jan 08
i let my 10 month old son watch tv and it does not seem to affect him any. He is actually kinda funny because he believes that he can pull the objects out so he will crawl up to the tv stand and try to grab the characters and then gets mad because he can not get them. LOL!!