do you really have to go the salon for your hair to be healthy and shiny?


Philippines
January 2, 2008 10:36pm CST
Do you really have to go the parlor tfor maintenance of your hair? I mean, my mom always wants me to go to the parlor once in a month to take care of my hair.. I only want to go to the parlor when I want to have my hair cut or eyebrows threaded. But I don't want to spend hours in the parlor:( Do I really have to?:(
7 responses

•
3 Jan 08
my mom always go to the parlor, she is kinda vain. i on the other hand i only spend time at the parlor if i have time. now that i am with my baby 24/7 i make sure i eat a balance diet. drink a lot of water. comb my hair with a lot of strokes so the natural oil will come out. i also put baby oil on my hair twice a week and put also freshly squeeze lemon juice twice a week too.

• Philippines
3 Jan 08
This is the first time I have heard of squeezing lemon juice on hair.. might wanna try that sometime My mom is also vain! HAHA!

• Philippines
4 Jan 08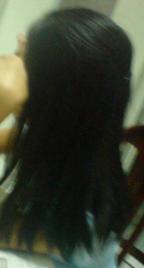 I don't believe that it is necessary to go to the salon or beauty parlor for hair to become beautiful. I see many women who have healthy and beautiful hair without going to the salon. In the province where I grew up, women did not have other people to take care of their hair and yet they are beautiful.

• United States
3 Jan 08
You dont have to go to a salon to get healthy shinny hair. What you need to do is take very good care of your hair and yourself. I always have a good hair mask on hand if my hair seems to be getting dry ot unhealthy I put some on my hair like I would a conditioner and I put a shower cap over my hair and I leave it that way over night and rinse it in the morning when I take a shower, I find this to help my hair stay nice and healthy.

• Philippines
3 Jan 08
Thank you so much.. I'll try to try that! :)

• Philippines
11 Jan 08
You dont have to go to the parlor every now and then. Of course if you need your haircut then go. There are many hairtreatment that you can do for yourself. Our hair needs only to be shampooed at least twice a week (but I have to do it everyday because we are prone to pollution), apply some conditioner and once every two months apply hot oil to your hair. As simple as that.

• Canada
3 Jan 08
No, not if you use the right products at home. My sister is a hairdresser and she has her own shop. She sells the proper healthy shampoos and conditioners. If you use the good ones I'm sure you salon sells, you can keep your hair healthy youself, so then you only would need to go when you need cuts or perms or whatever. Do you not pluck your own eyebrows. I do my own and it is very easy. You don't need to go to a salon for that either.