This is the last straw Abagail has to go!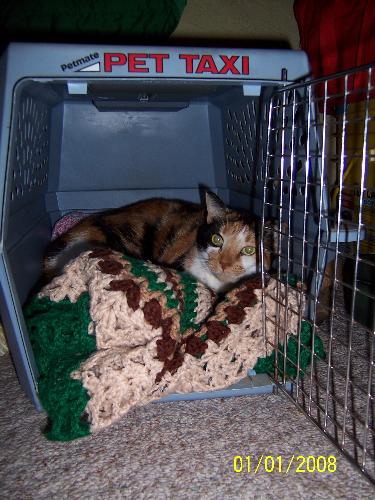 United States
January 3, 2008 8:59pm CST
Petie here I have tried to love Abagail I really have, I have shared my toys, I have shared MOM, but this is where I draw the line! Abagail thinks she can sleep in MY bed when I am not in it she has to go and go sooooooooooooon. Mom is eating dinner with dad so she does not know I am plotting on mylot. Gissi, pyewacket and all of my other pet friends I need your help to convense mom to get rid of Abagail. She now spends all day in my bed. Mom even took a photo of her. Its one thing that Abagail stairs at me at night throught the door, but now she thinks she can sleep in my bed during the day. She gave me fleas, she has claws, she takes my toys but I draw the line on my bed. The blankets in my bed my Nana made for me before she went in to the nursing home Abagail does not even know Nana. I will not share Nana's memory with that witch cat. Please help me get rid of Abagail She can sleep in my basket in the office here where mom keeps the computer but not my bed!
7 responses

• United States
9 Jan 08
Well Petie my suggest is try selling Abigail on e-bay. I wouldn't tell them about all of her bad habits though. Maybe your Mom will be so happy with the money you recieve she will forgive you for selling your sister.

• United States
11 Jan 08
Wow what a great idea. I think I will do that! We have to keep it our secret. Maybe mom will be happy because Abagail has been waking her up in the middle of the night wanting to play. Mom has to lock Abagail in a spare room so mom can get some sleep. You know mom needs her rest so she can throw my pony and all my other toys for me. lightningMD thanks for the great idea.


• United States
6 Jan 08
You are wrong, I am the king and I can sleep where I want and she can have what room is left.

• United States
5 Jan 08
Oh my. Poor Petie. I don't think I could handle that either. I would want to get rid of Abigail as well. What is your plan.

• United States
6 Jan 08
I am going to try to convience mom to lock Abagail out in the rain again. Mom has to work tomorrow so maybe that will work. If she stays in the rain for a while maybe she will learn to respect boundries.

• Canada
4 Jan 08
Well, if you learned to close your door after you were done, she couldn't get in there. If you give her a chance, I'm sure Abagail could be a big help to you. When your Mom doesn't want to give out treats, you two can gang up on here, and she'll surely give up. Abagail will eventually help you groom yourself, you know, get into those spots you can't quite reach. Don't worry, your Mom still loves you, you'll never lose your place in her heart.

• United States
5 Jan 08
I am keeping my bed door closed now. Abagail cannot get in and mess up my bed anymore.

• Finland
4 Jan 08
Perhaps you can shut the door to your room when you're not there.. Prevent access to your bed somehow. If she can't get in, she's obviously not going to sleep on your bed.

• United States
4 Jan 08
Thats a good idea I think I will shut the door to my bed and my sister will not be able to get into my bed. I will make my bed and shut the door. Thanks for the great idea.

• Turkmenistan
4 Jan 08
Calm down Petie, it is not that serious. She does not still have fleas, does she? I think that she likes you and believes that you like her too. So she wants to share everything special with you. I think that you should share your bed with your sister. Remember what we talked about during Christmas time? Didn't we talk about being nice and sharing, so Santa would bring you something special. Well just remember, Christmas comes around every year, so you have to be good all the time.

• United States
4 Jan 08
Auntie Rozie I try to be good all the time but sometimes it is hard to share. I do try to love my sister but I hate sharing my bed. I will try to behave. Thank you for helping me Auntie Rozie

• United States
4 Jan 08
Hiya Petie, It's me Pyewacket...my cousin Kissy is sleeping on top of the sofa area. Oh my, my. My heart does go out to you Peite and I feel sorry for your predicamet, but I hope you won't mind my saying so, cause I think you have come to recognize this fact, that we of the feline persuasion are very independent and pretty much get our way...even with humans. I just KNOW our mom isn't too thrilled with the way she has to sleep like a pretzel in her own bed, as we've kind of taken over her bed. Why half the time she never gets a chance to even make her bed until she's ready to settle down, and she's never sat on the nice comfy sofa she had as she knows that, that is our domain too. She's kind of having a fit too, since she just got off all the hair from us off the sofa and now she's ranting around saying that hair is on the sofa again. Yes, we kitties, I hate to say it, just LOVE to take over spots, so no doubt Abagail is teasing at you. How long has she taken over your bed? Just recently? Maybe it's just a phase and she'll soon tire of your bed. Does she stay in you bed ALL day and night? I think the only way you can reclaim your bed is to simply watch when she leaves it..I mean she does have to eat and use the kitty pan..so when she's busy with that...make a mad dash into your bed...that might solve the problem..ops...mom's coming back from the kitchen...so gotta go...hope I gave you an idea of how to reclaim your bed... ((hugs))

• United States
4 Jan 08
The taking over my bed is new at least she cannot have it at night. I go in it and mom shuts the door. If mom did not shut the door I am sure Abagail would be kicking me out of it. I hope it is a phase and she soon tires of my bed. I have shared it with Sammy but she was in this family before I was so she has a right to go and do what she wants. Sammy is very old mom told me that Sammy has been living with her for over 10 years now. I have been with mom for 6 now. Abagail has not been with us a year and look how she has butted into my bed.............. I will have to bite her tail or pretent to bite her tail and scare her. I got to go mom is going to be home soon. Love ya girlfriend