Law student, pageant princess and kidnapping suspect!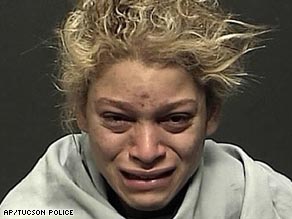 Malaysia
January 4, 2008 1:31am CST
This 25-year-old lady is a law student and was a beauty pageant contestant and now she is a kidnapping suspect. "Kumari Fulbright, 25, who is midway through her second year in law school, faces a long prison term if convicted of kidnapping, armed robbery, aggravated robbery and two counts of aggravated assault." A beauty who has good knowledge of the law can still commit a serious crime such as kidnapping. What was she thinking about? Pictures: 1. Kumari Fulbright, who clerked for a federal judge, could be looking at a long prison sentence. - http://www.shareapic.net/content.php?id=5336669&owner=shaxx 2. Police are looking for Robert Ergonis, 44,who is Fulbright's former boyfriend. - http://www.shareapic.net/content.php?id=5336670&owner=shaxx 3. Michael Ergonis, his 46-year-old brother, allegedly helped in the attack. He remains at large. - http://www.shareapic.net/content.php?id=5336671&owner=shaxx Full story: http://edition.cnn.com/2008/CRIME/01/03/beauty.indicted.ap/index.html
3 responses



• India
24 Apr 08
May b she thought it wont b such a huge deal, but she shud have known better, knoing the law.Any ways noe she just ruined everything 4 herself....