Kid Rock Live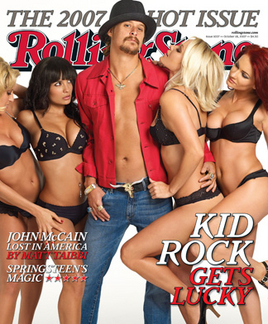 United States
January 8, 2008 8:09am CST
If you have the chance to see Kid playing in your area, go see the show. I was lucky enough to catch a few shows in the area (give or take 500 miles!) and he put on a hell of a show. Great combo of old and new song, usual Kid Rock antics on stage and a hell of a lot of fun for everyone in the first few rows.
3 responses

•
12 Jan 08
I agree, I have seen Kid Rock once in Memphis and he was awesome. He really sounded great singing in person as well. I would definitely go back again.

• United States
8 Jan 08
I actually had a chance a couple yrs back at the Allentown Fair in PA but I ended up having anxiety about it so we didnt go...I would love to chekc out a show though without a doubt...I'll admit though, I've not heard much of his latest stuff but only becuae I've not had the chance to check it out....

• United States
21 Jan 08
i don't think he's ever played in my area. *sniff* not that i'd heard of anyway.but i would go if he does.