Plastic Surgery...trying to look like someone else?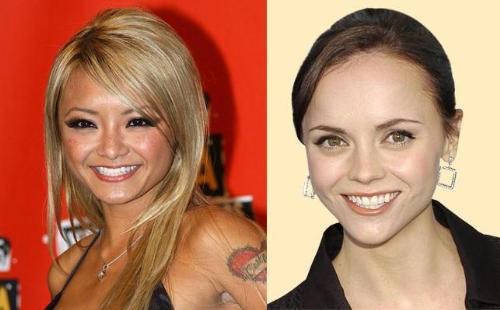 Canada
January 10, 2008 6:23am CST
Today I noiced something odd. As far as I am aware, actress Christina Ricci has not had any plastic surgery. However, reality star and playboy model Tila Tequila is reported to have had alot, includeing a forhead implant, or so I have read. So what I noticed was this: don't you find, when you look at the pictures below, that the two of them look somehwat alike? So my question is this, do you think that Tila Tequila went to her plastic surgeon with a picture of Christina Ricci and said "Make me look like this"? Just check out the pictures and tell me what you think...
9 responses

• United States
10 Jan 08
It sure looks like she probably did. I had no idea Tila had facial plastic surgery. I remember seeing a facial plastic surgery performed on tv once and it totally grossed me out. Don't get why someone that isn't disfigured would go to such extremes.


• United States
11 Jan 08
That's pretty sad that someone so young needed to do all that in order to feel confident enough to have a career...okay I'm trying not to laugh at the last 3 words I typed. (wink)

• United States
11 Jan 08
Wow! they do look identical practically!! It honestly wouldn't surprise me if that was what happend; celebrities no longer shock me haha especially after everything britney spears has done =/ lol

• Canada
10 Jan 08
Oh wow do their faces ever look alike. I couldn't tell you for sure if this is what Tila did. Their forehead and chins are pretty much identical. People do go for plastic surgury for alot of different reasons to say the least.

• United States
22 Jan 08
Tila kind of looks like she had something in her mind to do so. But why christina ricci? I don't get it.

• Canada
14 Jan 08
Yes they do have the same bone structure of the face. I wouldn't be shocked if someone did that. From what I heard, people do it alot. Wasn't JLO's rump the most asked for butt. I wonder if they will be asking for it after she has her baby. HEHE

• United States
4 May 09
I don't think she has had facial surgery. Having a large head, high cheekbones, small nose, small chin, and round face are very common east asian features (i.e. angela chang). I would know because I have them as well and many Asian stars get surgery to have big noses, long thin faces, and cheekbone reduction. she had her boobs done.

• United States
4 May 09
I don't think she had any facial plastic surgery. Having a big head, wide-set eyes, high cheekbones, and small chin are very common traits amongst east asians.

• United States
27 Apr 08
Although I can't see the pics it isn't uncommon for someone who is having plastic surgery to use a pic of a celebrity or model as an example of what they want. I've always liked Christina Ricci and she's a wonderful actress. **AT PEACE WITHIN** ~~STAND STRONG IN YOUR BELIEFS~~

• Australia
12 Mar 08
Your right they do look alike. I wouldn't of been surprised if christina ricci has had some surgery done, she has also changed alot in her profile from earlier photos. I think they are probably all going there with someone else's photo and asking to look like them, lol.