CSI:What a bunch of BULL.....

United States
January 10, 2008 9:00pm CST
Spoiler.................. Pretty funny title huh,lol. Ok ok down to it,I happen ro really like this episode,my nephew used to ride bulls,and the camero's where awesome,Jewel not so much but Shooter jennings,oh yea. I love me some country,ok enough. It was good to see Warrick,and the fact he looked so surprise to catch the guy too. I missed the promo for next week though,as ER is getting ready to come on where Abby is back. So all in all what were your thoughts on tonight's show?
2 responses

• United States
11 Jan 08
Oh No. There must be something wrong with my season pass on tivo because it didn't record CSI (I was watching my celebrity Apprentice... I love Donald Trump) so I didn't catch this one! I don't know who shooter jennings is and I don't much care for jewel and I'm not much on bull riding so I guess maybe it's good I didn't catch it :p

• United States
11 Jan 08
Wow that sucks,but like you said you might not have been able to get into it ya know. Shooter jennings is Waylon Jennings son an old country singer from way back when Johnny Cash was just hitting it big.

• Canada
11 Jan 08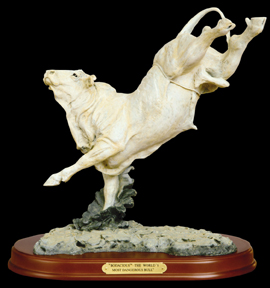 OHHHHHHHHHHHH I absolutly loved this episode. Not only was it one of the best episodes that I have seen in a long time it brought back alot of memories. My brother and I were bullriders my brother for 8 years and I was for 7 years. I truly loved bullriding and it was excilirating. I have since retired my chaps due to my back injury which I will never be able to go back to. But I do still attend several shows throughout the season.:)

• United States
11 Jan 08
That is awesome! I bet you hvae some pretty cool stories to tell,ya know. I really liked this one as I am a huge country fan,and I love the bull riding as well.

• Canada
14 Jan 08
Yes I sure do have some stories. My bro and I surely enjoyed it. We still go to the functions just not every one anymore. We hit the ones that we also call home.