What do you guys do to curb random food cravings?!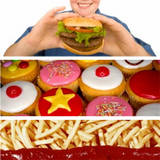 United States
4 responses

• United States
11 Jan 08
I'm not one worried about weight for I am what I am and that's that however, if I were, I'd try eating fruits or flavored rice cakes and/or anything that is low in calories. They say drink a glass of water will take away the hunger. How true that is, I don't know but I do know water cleans out your system.

• United States
11 Jan 08
Ohhh I'll definately try that!!! Thanks for that advice!! I'll let you know how it goes for sure!!

• United States
11 Jan 08
Awww you're very welcome hon. Hope it works for you!

• United States
11 Jan 08
Portion control is my only recourse. I have zero willpower! Sometimes I can try something else that is a better choice. If I crave sweet, I will have a small sweet rather than a huge piece of cake or a pint of ice cream. If salty, I have a few chips in a bowl rather than eating out of the bag and try to eat slowly and savor them.

• United States
11 Jan 08
That's a good idea!! I didn't think of it like that!! :) I'll definately try it! Thank you for taking the time for writing this post!!


• Gibraltar
12 Jan 08
Frankly, I maitain a good weight for my age. LOL But I have to admit I like to crave food like anyone. My solutions are: 1) Have an apple or banana or any fruit when start cravings. 2) I love Chinese sunflower seeds, watermelon seeds or any well prepared seeds. You can find them from any Chinese shops. They are really good as they not only can satisfy my taste buds, but also stop me eating too much in a certain time as I have to peel them one by one. LOL Give it a try!