Is common-law marriage all that common in Pennsylvania?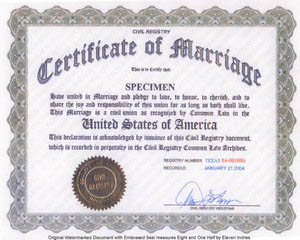 United States
January 11, 2008 12:13pm CST
The guy I've been seeing has been living with a woman for 14 to 15 years...he's saying they haven't slept together in over 6 and according to him, they no longer share a bed (the last 2 years). My understanding of what I've read, if one of them holds them up as intending to be married prior to 1/1/05, then the union is recognized. I've only met one couple (and they started together a VERY long time ago and consider themselves married although they never had a church ceremony), so I'm beginning to wonder how I should approach this one....realistic suggestions please--I stupidly went and fell for the guy but I'm still afraid to ask him how he feels about me (other than 'I care for you' due to a fight we had about a month ago, I don't know!).
4 responses

• United States
11 Jan 08
We do have common law marriage here in pa. But there are still documents that need to be signed. and in court documentation is everything. So if there is no evidence showing they considered themselves married than in court it will be said that they were never married. Paper means everything. So all in all if this woman doesn;t have any documentation than the guy has jus been a live in boyfriend all these years

• United States
11 Jan 08
phillygirl, I wasn't aware that paperwork needed to be signed...being the snoop that I am, you've peaked my interest! Can you elaborate a bit more please? I did find out that the relationship has to have been established prior to 1/1/05, but I don't recall seeing anything about documentation being required. Thanks!

• United States
12 Jan 08
a big question would be does she have her mail delivered using his last name? DO they do their taxes together or file single? See she just can't go to court on her word. she would have the burden of having to prove that its a common law marriage. I have a few friends who have a common law. And what they did to legalize it was wrote up that they both agreed that it was a marriage and than had the paper work they drew up notarized which would make that a legal document. If she doesn;t have anything like this than in court it would make it a he said she said scenio. One person's word against the others. SO without any documentation she basically would not have no case of no common law marriage

• United States
4 Feb 08
phillygirl, Short of coming out point blank and asking her (risking the end of my relationship with him), is there any way to find out online? I'm curious but I don't like to be a stupid fool...thanks!

• United States
11 Jan 08
You are absolutely right about what you read, I looked into it myself as an option for me to get under s/o's health insurance without actually getting married...we missed the deadline because we didn't know Pa was putting an end to common law marriages. If they have an established and recognized common law marriage they will need to get divorced legally. I think it sounds like a bad situation and you can do better. Regardless of what kind of marriage it is or what they do in their bedroom(s), you are essentially having an affair with a married man.

• United States
11 Jan 08
"'I care for you'" If thats all he's saying then I would have to say that thats as far as its gonna go...He cares about you BUT he's not gonna be leaving his current situation any time soon....As for the whole Common Law thing...I dont know what the laws are in the U.S overall let alone state to state...but my question is..why did you hook up with the guy in the first place and are you expecting it (the relationship) to go any further? and how long have you been seeing each other?

• United States
11 Jan 08
In my most humble opinion I really doubt he is being honest with you. Would live youy live with someone for that long without intimacy? I would tell him to give you a call when he is free and has his own place.