Energy Efficient Bulbs and Mercury?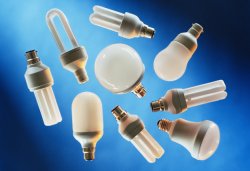 January 11, 2008 1:20pm CST
I thought that by choosing energy saving bulbs I was doing a good thing, apparently though they have mercury in them! I never knew!There's an article about it here: http://news.bbc.co.uk/2/hi/uk_news/7172662.stm Is this something that's already widely known? Apparently if one of these bulbs smashes, the room should be vacated for fifteen minutes and gloves should be used to clean it up again. The bulbs have to be disposed of carefully and not just thrown away as I've always assumed. Does anyone know of any safe ways to dispose of the bulbs? I didn't find the article very clear on this point, other than contacting the council.
5 responses

• Australia
11 Jan 08
Yes I read a few weeks ago that they are just as bad as the normal ones but in a different way, their admissions are different, but I didn't know about the disposal problems, I hope we get an answer on the best way to dispose of them, I saw on the TV that we shouldn't just thrown batteries away either, so what do we do with them....

•
11 Jan 08
Oh good grief, I didn't know that about batteries. I should have realised really as it makes perfect sense. I really don't know what you do with them now though. I would like more information too. :(

• Australia
11 Jan 08
yeh this fella was saying that because batteries are being used so much these days there should be a recycling thing setup as you shouldn't throw them in the bin, he said use rechargables but I don't think they last too long....


• United States
12 Jan 08
I knew that there were mercury in them, but I am not sure that it is general knowledge. There is more mercury in a thermometer (I am not sure if I spelled that correctly), and in the little mercury bulbs in the older themostats than there is in new bulbs. And I think there is more mercury in an older computer (something else that you are not just to dump into the bin). We actually put less mercury in the atmosphere though the use of these bulbs than we would if we continued to produce the power required for the old bulbs. Here in the States, there is a law mandating the discontinuation of the old firmament bulbs. I think that we have five years before they can no longer be manufactured. I don't know any locale that has gotten around to setting up a widely known (or even semi-usable) program for their disposal. Up until recently, not too many people were using them. Yes, we could all become as "mad as a hatter" from this. (Does anyone get the reference?)


• United States
17 Jan 08
Which is why the "Mad Hatter" character in "Alice in Wonderland" behaved as he did. He was likely suffering from mercury poisoning. I wonder if Disney did that on purpose.

• United States
18 Jan 08
It was not Disney who made that decision. The cartoon was based on the story by Lewis Carroll. In the story, Alice in Wonderland, the Cheshire Cat warns Alice that the Hatter is mad; this is confirmed at the tea party. Now, the phrase "mad as a hatter" predates Carroll--obvivously, there were quite a few hatters who were off their mental chair.

• United States
17 Jan 08
There is about as much mercury in these bulbs as there is in an old fashioned mercury thermometer. Nothing to worry about. No need to call out an evac squad or the hazmat team. There is no reason to evacuate any room or use gloves. Mercury is only toxic in large quantities, so you'd pretty much have to swim in a football sized swimming pool full of it to see any real damage. As for disposal, I just throw mine away with the rest of the garbage.

• United States
20 May 08
I would choose cost and energy efficient items, like light bulbs. And I would find a special place to dispose of the light bulbs that are blown. There are certain warnings regarding safety about those items.