what' s sweetest thing they've done

January 13, 2008 10:38pm CST
I consider beeing a parent as one of the best experinece of my life. There are 2 instances that stand out to me as beeing the best. On my last birthday my 6 and 3 year old daughters and 4 year old son made me breakfast in bed. Though breakfast was mostly cookies from their snack jar and juice boxes it was the best breakfast i've ever had. Three months ago my daughter coming home from the mall with her dad she bought me 50 cent necklace.She said I should always wear it so that everytime I'd miss her all I had to is touch it and remember her. Eventhough it's lost its luster I still wear it everyday. I know they sound like "hallmark moments" but they make me feel like the most special mom in the world.
7 responses

• Kuwait
14 Jan 08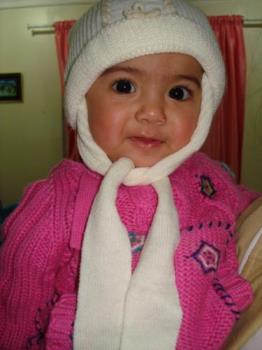 wow, your so right your so lucky mom that you have those sweet little angel, i have one daughter she is eight month old, just know she keep on ta;king anything, try to stand her self, she is so really sweet. i will include her pic so you can see her. hope you will like it.

• United States
14 Jan 08
My youngest son was going to the races with my brother so my husband and I gave him some money to eat and drink on. When he arrived home, he was so excited because he had gifts me and my husband. When we asked why he didn't get something for himself he replied, "Because I didn't have anymore money." We both cried because we couldn't believe he thought of us first.

• Canada
14 Jan 08
My daughter whom is 9 is always doing the sweetest things! Some so little only I would understand her gesture to it! Thats the best thing about being a Mommy :-) Every day when I sign into MSN she has sent me an off line message that I get when I sign in. Just little things like I am the best Mommy and that she loves me and such. What a nice little thing to do. I actually look forward to seeing what she has wrote me. Just an example of one of the sweetest things my daughter has done :-)


• Philippines
14 Jan 08
Conratulations! You have such adorable and sweet children. It's true that children can bring us the greatest joys from their simple acts of innocence brought about by love. I only have one child and she already brought so much joy and meaning to my life. How much more if I have 3, just like you, so that would be happiness times 3! =D What's special about their love for us, is that it's pure and unconditional. It's a treasure worth keeping for a lifetime. Sometimes we wish they stay the same and never grow up for we will sure miss them when they're all grown up. My daughter loves to write me small notes and letters that I treasure and keep in a special place. I try to keep all of them and I'd like to read them again when she's older, to show her how much I appreciate her thoughtfulness when she was younger.

• Philippines
14 Jan 08
Well, that is a very sweet hallmark moment... and i wouldn't mind something like that to happen to me as a mother... my baby is 21 months old and she is the sweetest thing that ever happened to me... she sleeps beside me and everyday, the very first thing she does when she wakes up is to smile at me and say "Mimi"... I simply love it when she does that... My baby is the greatest thing to happen to me...and i consider everyday as a hallmark moment...

• United States
14 Jan 08
My daughter is 19 moths old. She has been saying the word baby quite a lot lately. The other night my husband was putting her to bed and she took the afgan next to me put it over me and saig "ni ni bye bye baby" (night night)I almost cried it was so sweet