Valentine's Day crafts... what have you created?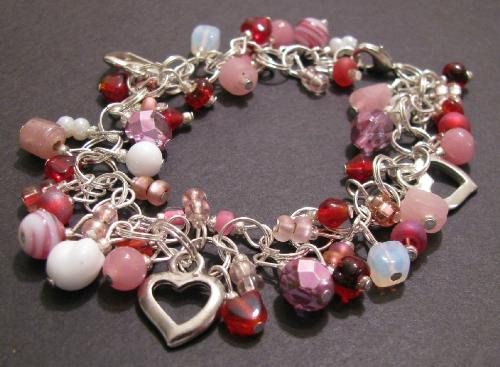 United States
January 14, 2008 12:03pm CST
With Valentine's Day about a month away, I've started placing some of my latest bead creations in my Etsy shop. I hoped to get an early jump on some of the sellers and found that quite a few stores had the same idea and were listing their creations over the weekend. I made 2 necklaces with red heart focal beads (glass) and a red and pink bracelet with silver charm hearts. The 4th item I listed this weekend is a plum mecklace with a cluster of glass beads. I also have a beautiful piece of red beach glass that has a heart-like shape to it. I don't want to drill it, (red is a very rare color of beach glass)instead, I'd like to wrap it. (I couldn' tdo the piece this weekend- I need thicker wire and Michaels and AC more don't sell wire any thicker than what I already have) So what are you making or planning on creating for Valentine's Day?
6 responses

• United States
14 Jan 08
Oh goodness, I'm so behind on crafts I don't know if I'll ever catch up - of course I just started doing crafts as a business and hadn't thought about 'holidays' until the craft show we went to where most of the things people bought were Christmas decorations - we didn't have any. I love your bracelet - may I ask how much you charge for it? I'm also working on 'pricing' and it helps to know what others are charging.

• United States
14 Jan 08
I asked $10 for it and it sold within minutes after it was listed. I guess it could've gone for more. LOL I'm still struggling with pricing also. I tend to charge too little and I think it will help it sell quicker, but when selling on the internet, some buyers may perceive the item to be cheap when they consider the price (rather then a good buy considering the quality) I just think I'd rather sell quality wearable art for a decent price then charge too much for it and have it sit in my shop. Are you on Etsy or do you have your own shop? Thanks for the response!!


• United States
22 Jan 08
Best of Luck to you on your pending Etsy shop. I hope you share the shop name, so I can stop by and visit!


• United States
17 Jan 08
Thanks for response... you are already added! Have a great day!

• United States
15 Jan 08
The bracelet is gorgeous. I have never made any Valentines craft. I tend to just do Christmas.

• United States
15 Jan 08
Thank you. This was my first attempt for Valentine's Day items. I'm happy that my necklaces and bracelets have been well received. I wish I had more supplies in stock to make more...LOL I have a couple more necklaces to list tomorrow and I'll load a picture of one of the necklaces (a pink cluster necklace) tomorrow. Thanks for the response!

• United States
14 Jan 08
I don't really do many holiday crafts and if I do they are just for me or my family. I do a little bit of scrapbooking and some photography. I also paint and draw but I don't sell any of it. Your bracelet is very pretty though. I hope you do well this season!

• United States
14 Jan 08
Thanks moneyandgc! There's lots of competition on Etsy...gotta get the items listed at the right time, so the buyers see them. Many impulse buyers at this time of the year... hope to impress another couple later this evening. Off to my craft table... I hope the creative juices are flowin" Thanks for the response! Have a good night!

• United States
14 Jan 08
Sounds like your new creations are very pretty. Will have to take a look at your Etsy collection. I generally don't work on various holiday items. I do craft shows in the summer so it's too late for Christmas items or too early and too late for some of the other holidays. In the past, I made a load of Christmas coasters, etc. but didn't have a chance this year to do anything with them. They are stored in tight boxes in a closet. Good luck with your new items and hope they sell well, carolbee

• United States
14 Jan 08
I only made some polymer clay ornament and pendants for Christmas and they sold pretty well. I sold all of my first group of Christmas and had a couple of ornaments leftover from the 2nd batch-- family and friends received them as gifts. I wasn't planning on doing any Valentine's day items, but I found a couple of large focal heart beads and tried a couple of necklaces and they both sold over the weekend, so I made a red and pink bracelet and that sold also. I think I'm going to sit and make a pink and white necklace tonight and maybe if I'm up to it a bracelet also. American Idol starts tomorrow , I think and I love the shows at the beginning. Thanks for the response Carol! Have a great night!