CashCrate - A paying legit site too risky for me!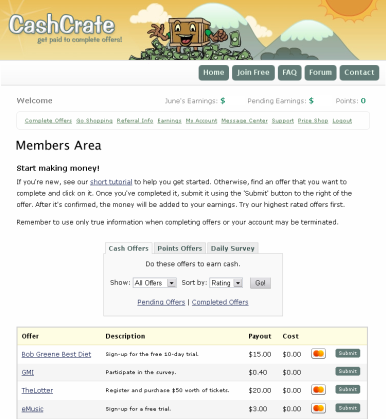 United States
January 15, 2008 11:32am CST
Just heard about this yesterday. I read a lot of forums, user reviews according to their satisfaction using CashCrate. It is legit for one that they pay you, but the hassle of putting a lot of your personal information such as your home address and home phone number - I just don't like that idea! Earlier today I got a call from one of those people that asked me if I'm the one that submitted college courses to take - and then I remember I filled out information from CashCrate's surveys about that. Now I'm having second thoughts about using it - I don't like the idea about having to always put my home address and home phone number and I do not like the fact I'm getting calls from this people. Oh yeah good thing is you get paid, but expect a bunch of spam and junk mail, probably getting junk mail too and then getting calls from these people like a stampede of telemarketers! If you're the type that would risk that for the sake of getting paid - and believe me they do pay good - but you're just risking your own to leak out all your information - regardless if it says there is no cost after filling out their offers!
8 responses

• United States
15 Jan 08
I just don't answer the phone when a weird looking number shows up on my caller ID I have been paid by cashcrate a couple time so I know they do pay. Getting a phony phone number can get you banned from the stie.

• United States
15 Jan 08
I do the same thing....I never answer my phone if the number on the caller ID isn't one that I know. I have used my old cell phone number on sites and had no problems.

• United States
15 Jan 08
Which is why I use my PO Box and I use a message line I got for free. You can find them all over the internet. I only use a cell phone and REFUSE to give that out to anyone unless it's a dire emergency. So I got a free message line that a friend of mine turned me on. The telemarketers can leave you messages all day long. Or you can give them a disconnected number. I do it from time to time and the offers confirm just fine. It says you have to give real information, but it doesn't say it has to be CURRENT information. I've given a past address and a former phone number and it worked great for me. =) I love CashCrate though. I am up to about $50 right now so far.

• United States
15 Jan 08
Now that's what I'm talking about - I have a PO Box - I'd rather do that instead and disconnected phone numbers. Thanx! Now that's what I call legit!

•
16 Jan 08
It's amazing how there is so much new legislation coming out to protect individuals against identity theft, data protection act and so on and there you are selling your identity for a few lousy bucks! Please discontinue you credit card or at least check carefully your credit card statements. The small print on those sign-up state they can change their terms at any time; they can sell your data to anyone; they can charge your card after a 'free' period; etc.etc. I think you are in for an interesting ride! haha

• United States
26 Jan 08
Unfortunately I have learned the hard way that you have to put your personal information means that you will be called almost daily by telemarketers who want to sign you up for thier programs, but you know what i just tell them I am not interested and to put me on the do not call list and they dont call again unless I fill out another offer from thier company.


• United States
16 Jan 08
dude man that's crazy! I'd hate to do that even if they were paying me - I hate telemarketers.

• United States
15 Jan 08
I did cashcrate for awhile and I did get paid a few times, but really it's not worth the hassle. I hated giving out my phone number also and all the junk mail. And a lot of offers I signed up for never confirmed. Not to mention always having to empty my cookies almost daily. I don't bother with cashcrate anymore.

• United States
15 Jan 08
I've been paid once by them, but the offers don't confirm as fast as they used to. So I don't know if I'd recommend Cash Crate as much as I would have in the past, before they were great but now, now they lack something. I hate the spam too.