Would you like to have a maid ?

United States
10 responses


• United States
16 Jan 08
I know,who can you trust anymore ?

• China
16 Jan 08
i had a maid for two or three years when my child was very young. i think having a maid can have both advantages and disadvantages. she really saved me a lot of trouble. but it's also uncomfortable to have an outsider in my family life. fortunately she is illiterate so i needn't bother hiding those things i didn't like her to read.

• United States
16 Jan 08
Thats nice that you didn't have to like hide your important documents,ect.I have hidden things before the maid came to clean.

• China
16 Jan 08
Hello dear friend. I would not like to have a maid for the household chores, but I am happy to do it by myself. It is the same with my wife as we are not used to having someone for help with our household chores. I think that it is better for us to do everything by ourselves and we need to have more privacy at home. Thanks.

• United States
16 Jan 08
I agree with you that a persons privacy is more important than having a maid.

•
15 Jan 08
I probably wouldn't want a maid, because even if i didn't have loads of time to do the housework i'd get it done sometime in the day. How ever much a maid would clean, they wouldn't be worth the amount of money it costs have a maid. They don't do any better jobs than the house occupier does, they just have it as their job and not do it in their spare time like a normal person. There will always be something that all of us would find we do better or prefer things doing a certain way and that isn't how the maid does it. ~Joeys wife

• United States
16 Jan 08
I think most people are a little fussy about how they want their things done and so its hard to be completly satisfied with the way someone else cleans.

• United States
15 Jan 08
I had a housekeeper for just a bit but like you she didn't live up to my expectations. I could do the job faster and more efficient then her. I hired her to do an extra job one day....to wash my kitchen cupboards and walls.....while I put fresh paint on the ceiling of my dining room and living room.....well I got both ceiling painted before she got the cupboards done and there weren't that many cupboards....I let her go!

• United States
16 Jan 08
The one I had was not fast enough either and sometimes she wasn't able to get all the cleaning done before she had to leave.Yours was really slow.

•
15 Jan 08
having a maid is like having another burden, that you have to teach everything that she has to do. it waste most time because you have to repeat it yourself if she does not do it right. but there are maids that really are good workers and lucky if you got one of those who does not need teaching anymore.

• United States
16 Jan 08
I know its hard because I had to go over everything in explaining what needed to be done every time.I did also have to go over some of the cleaning after she left because sometimes the job just wasn't done well enough.

•
15 Jan 08
We had a cleaner in one of the student houses we lived in. Aside from her having a habit of throwing out my stuff (who throws out a DVD player?!) it was good... but mostly because it was a house of students... which generally equals much mess. Poor lady. I dunno, it's nice to think you'd have someone to do all the house work for you, clean up after my partner if nothing else... not that I'm much better :/

• United States
15 Jan 08
Thats a maid going to far with throwing your things away.


• United States
15 Jan 08
I had begun to feel those same feelings after awhile about my privacy.

• United States
16 Jan 08
i prefer to do it myself because i am very picky about the way i like things done and its just easier for all involved if i just do it

• United States
16 Jan 08
My feelings exactly.I just had to try it one time and they never do it just the way you'd like it.

• Craig, Alaska
16 Jan 08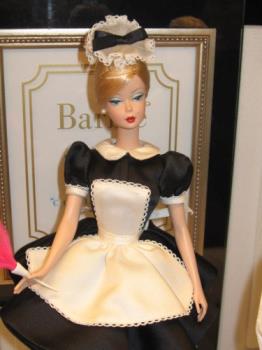 I would someday when I can afford the extra expensive. Though if I ever have one that person will clean my home the way I say to do it and I will throw the idea out to that person You can only also come up with better ideas to but my home as to stay very clean or this won't work. My have a hard to time as is now trying to keep it clean. I have to keep it clean for my son who has a low immune system so he gets sick really bad easily if he ain't in a very clean envirerment. I don't suggest to anyone who gets a maid just expect them to clean your home without giving them guildlines to follow to keep your home clean otherwise they may not do the job properly.

• United States
16 Jan 08
That must be really hard with your child that could become sick if everything is not kept very clean.I believe having guidelines like you said would be a great help instead of just letting them go for it.