do you treat your dog like your baby?

United States
January 17, 2008 6:58pm CST
Before I had kids I treated my dogs like they were my babies. Now that I have kids and we have a dog it's a dog and I love it but don't baby it. How many people treat their dogs as babies as so is it because you don't have one or yours are grown up? Has anyone else experienced this sort of change in your life? I am curious to see if it is just me.
3 responses

• United States
18 Jan 08
My sister has a dog as well as my brother. Oh how they are gross. They let the dogs lick all over them and kiss them in the mouth. My brother will sit right down for stacy to lick his mouth. he will kiss all over her as well. Stacy lives all over his house and leaves a trail of hair when she jumps down. My sister has a dog scrappy and that is her baby. She has three boys at home all minors so it's not that their grown. She just loves scrappy like her 4th child.

• United States
18 Jan 08
That's just gross letting them lick your mouse yuk!

• United States
18 Jan 08
I don't mind a kiss but not on the mouth - icky! I just think some people take it too far and I find this dog is so better behaved because I treat her like I am the Alpha dog and not let them be.

• India
18 Jan 08
This depends on your personal feelings and nature. If you are very much fond of dogs then you will take care of your dog like your kid but I have seen people who don't even bother about the dog's eating schedule and go out for long. I hate such people.

• United States
18 Jan 08
true, I would rather someone baby an animal instead of neglecting it. We got our dog from the shelter just because we wanted to give a dog a home that needed it. It was nice that she was already housebroken and did have some bad habits we are working on but overall has been a great addition to the house.

• United States
18 Jan 08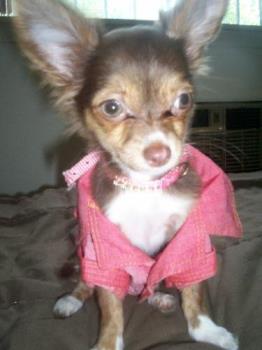 I have two dogs and I love them very much but I do not baby them, they are not allowed on my bed and I don't give them scraps. I give them alot of love and care they give me love back but I don't treat them like kids or let them kiss me on the mouth like alot of people do.

• United States
18 Jan 08
my daughter wants to trade our dog in for a chihuahua (spelling?)