Men not allowed!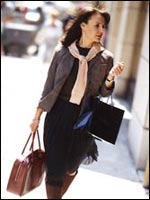 India
January 18, 2008 6:29am CST
Women preferred shopping alone or with children than with their partner. The top reason for such a choice was found to be the partner's 'bad behaviour' during shopping trips, ranging from sighing, looking pointedly at their watches or refusing to come into a shop.
5 responses

• Murfreesboro, Tennessee
18 Jan 08
*giggles* This topic amuses me because when I was younger I had male friends that did almost all my shopping with me, but they actually liked to shop. So it was a lot of fun, because they actually had input to give and weren't trying to hurry me... in fact I usually wound up waiting for them by the end of it. I miss those guys! Now I have a husband who doesn't like to shop, so of course I'd rather shop by myself. Though actually I prefer shopping with friends than shopping by myself, if I have the option.

• Kuwait
18 Jan 08
I love to shop with my partner.We both enjoy shopping together.He never did such things.He is very sweet.He has good choice in choosing things.Even i loved to shop with my dad,he also used to enjoy shopping with family.with out him we used to get bored while shopping.in this case i must say i am very lucky.

• United States
19 Jan 08
Men as a rule do not consider shopping a good time. I love to be with my husband whenever I can too. I also respect the fact that he doesn't like to shop unless it is shopping for things he likes. For mall shopping he will go to one store while I go to another and we will meet each other after we are each done at our stores of choice. I say if you want to go shopping you are better off shopping with a friend than your husband unless he is a rare type of man who likes to shop. Just a suggestion. imagicka

• Singapore
26 Jan 08
I dislike shopping for items like lingerie when guys are around. Many girls like to bring their partners with them to shop for lingerie. Their partners often do not know what to do and they will look around. I do not enjoy them looking at me buying my lingerie. =P

• Canada
26 Jan 08
I hate shopping with my hubby. After aboput 10 minutes of shopping he wants to leave. I don't get to look at very many shops and I never get to try anything on. He wants me to just buy it and if it doesn't fit then take it back. I hate shopping this way, so I go alone now and even if he wants to come along I warn him that I am really shopping and it will take a couple hours he usually changes his mind and doesn't come with me. I like to go to all the stores in the malls and I like to try my clothes on before buying them. I want to make sure it's something I want and the only way for me to do that is to try it on.