If You Are A Black Female,Have You Ever Considered Dating Out ?.

United States
January 20, 2008 1:29am CST
Would you or have you dated out ? Meaning outside of your race.I see a lot of others dating outside of their race but I don't see a lot of black females doing this.I have read that some black womens mothers have given them strict warnings of,Don't you ever bring a white man home ! Are black women dating out yet ? I just don't see it.I wonder if it exists. For me I don't think there is anything wrong with it.I believe you fall in love with who you fall in love with regardless of race.
5 responses

• United States
25 Jan 08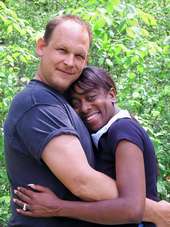 Yes, I date out, as you say. My mother raised me to be versatile and always said, you just never know where your soul mate is. I've dated a wide variety of races, but never had the chance to date an asian, but my cousin did. Anyway, throughout the years of my dating, I've found that I'm more suited to date white men. For some reason I just tend to have less drama with them and we have more in common. I am very eclectic with music I listen to and have frequently come across black men who frown upon it, don't understand it, or want to give me grief about it. However, I've never held that against the next black man. Thank you for posting this discussion.

• United States
25 Jan 08
Thanks for the picture of you and your boyfriend.You look like a nice couple together.I think that is great that your mother didn't insist that you date only black men.I always left it up to my daughter also about who she dated.We are white and my daughter married a Mexican.I am happy with her choice.Thanks for sharing.

• United States
26 Jan 08
What little cuties your children are ! No,I didn't have a problem at all when my daughter wanted to marry a Mexican. All that mattered is that he would be a good husband.


• China
20 Jan 08
Hello dear friend. I think that so long as they both love each other and happy with each other, they are supposed to be together for dating out. In our present society, color and race should not be supposed to be any barrier to any loving couples. I hope that I could get support from you, dear friend. Well, in China, I have read quite some news about the interracial marriage affairs, one of which is a couple, a Chinese girl and an American black man and they love each other so much and they finally got married years ago. Such interracial marriage happens everywhere and every day. I think that interracial children are more beautiful and clever as they can absorb the advantages from both the mother and the father...

• United States
20 Jan 08
Your response is beautifully stated.Thanks.

• United States
20 Jan 08
Kundalini,I agree.Everyone should just let people be with whomever they want to be with and forget about racism.

• China
21 Jan 08
Thank you so much for your agreement. Have a good day, my dear friend.

• Italy
20 Jan 08
"Race" (I don't like this word) is irrelevant for love purposes. True love and even just phisical attraction doesn't look at your skin's color. Of course there are preferences: for instance, I like women with white skins and dark hair, but it's a matter of tastes, NOT race! Humans shouldn't be racist. Love CANNOT be.

• United States
25 Jan 08
I don't like the word race either.I agree that love is not racist.Good points.Thanks for sharing.

• United States
26 Jan 08
There is only one race, the human race. People describing colors or ethinicities as a "race" need serious help. Everyone is human. As for the topic, people should be able to choose who they want to be with. Regardless of physical differences, social differences, age differences. If both are honest and loving, they should go for it.

• United States
26 Jan 08
I said my peace in a response to a response. People should be aloud to see whoever they want regardless of "race", I meant mindless difference people really shouldn't care about! If you nave tastes fine, thats you too. Still I have qualms with that "word". Alright I'm feeling more like talking, I'll respond to the rest of your posting. I have seen the edit of black women's mothers. It goes to both their daughters and sons from what I've observed. Also society seems to back up the claims with some vile, poisonous language to anyone dating "outside" (he's not "really black", "sellout", "acting 'white'", can't handle a "real" woman, etc). Its just a bunch of nonsense from some human refuse. A good number of them usually do this because they fail so bad at relationships in their own lives, or they are jealous of what others have. Going further and thinking about this, adults can be some very backwards and immature people especially on the subject of "race".

• United States
26 Jan 08
Yeah,I think if we all just stop thinking race and just think humans all people would get along better.I see your point. Thanks for sharing.

• India
25 Jan 08
i agree that me go by looks and women by talks...but one can always convey a good heart. some tips: 1) Dress Well - style gathers attention 2)Kino - if you feel that you don't look very good you can practice touching and showing high levels of every when you meet some one. 3)Drink water and do lot of exercise --- www.Girlfriends.bz

• United States
25 Jan 08
Thanks for your tips.I agree that it is important to dress well when you want to attract someone.It just shows that the person cares about their appearance.I like your number 3 tip also,water and excercise is all about health and taking care of yourself.Thanks for your comments.