Sometimes you have to take a chance in life.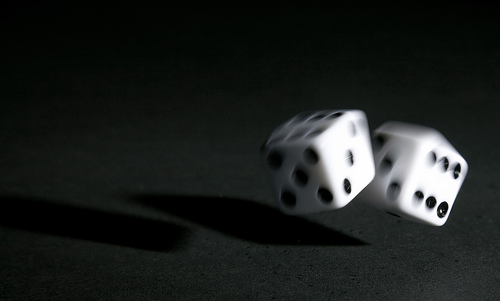 January 21, 2008 2:10pm CST
I have had a massive weight taken off my sholders today when i found out i had a new job. Sometimes you have to gamble in life and i have done that over the last year. I gave up smoking 9 months ago, i gave 4 weeks notice from my miserable job in boxing day and today found out i had another to go straight into. it caused a bit of stress not knowing if i would be unemployed at the end of the month but nothing to the stress it was causing to my health in the long term. I feel great and next in the agenda is to lose 30lb! I hope my friends can forgive me for destressing with a multitude of characters, but all of them had the best of intentions! Has anyone else taken a gamble and won?
9 responses

• Canada
22 Jan 08
Congrats on the new job, i hope you enjoy it THOUROUGHLY :) hehe. Glad that you no longer have a lot of stress on your poor head ;) It would be fantastic if you can enjoy your new job as much in a year as you do in the beginning! I always get bored quickly at jobs, and then that in turn makes me frusterated and stressed out! I guess that's what i get for not finishing collage and getting a good decent paying job. Good luck xboxboy, with your many personas :)

•
22 Jan 08
I am so pleased for you as I know you have not been at all happy with your job as long as I have known you - it must be great to know that it is almost time to get out of it! I do hope that your new job is fantastic and isn't as stressful for you but please don't forget us or stop entertaining us when your life is much happier and calmer! I know I have taken gambles in the past but this blasted brain of mine won't let me remember! lol xxx

• United States
22 Jan 08
Well, I think that everyone takes a gamble because life is a gamble. You never know what you are going to get. I had looked for jobs and I could not find any. I'm still searching though. Goodluck on your job. Life can be stressful, but you have to try to not be stressful when you are facing a tough situation.

• United States
22 Jan 08
I am soooo happy for you. The only gamble I have taken is when we moved across the country (from Texas to Washington State) and I let my husband plan the road trip. He's a fly by the seat of your pants where we end up is where we end up kind of a traveler and I need every potty break planned down to the minute. But it was alot of fun and after I relinquished the controls and just went with it there was no stress or fighting or anything. It was great.

• United States
22 Jan 08
yea sometime i do take chance, like askin a gurl out,and goin to school, and knowin u got a lot of beef.

•
22 Jan 08
you are what you are young boy! get a grip! bloody jerry had a bop on the head!

• United States
21 Jan 08
Aw shucks, I like the "real" you better anyway, whoever he is. Congrats on kicking the smoking addiction and I'm glad to see that the Cosmos rewarded you with a better situation...we hope. A gamble? Sure, I was teethed on the expression "Nothing risked is nothing gained!"

• United States
21 Jan 08
I wish you luck at your new job. I am sure hoping it's something you enjoy. getting a new job at the beginning of the new year. it's a good way to begin it. good luck