Cats or Dogs??

United States
10 responses

• United States
30 Oct 06
I loved cats growing up, but I now have two dogs and love them even more. They are just more friendly!!

• United States
31 Oct 06
Awww.........They are cute but I am way too allergic!! LOL.

• Luxembourg
1 Nov 06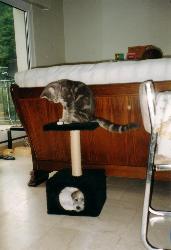 It's really hard for me. Both are nice, kind and lovely! I think it depends on everybody's caracter. Cats are a lot more independant even if they love to come to you and be cuddled, but only it they agree to it at that moment! Otherwise, they'll show that you disturb them! Dogs are more linked to their master and (usually) obey when you tell them something. What's also easier with a cat than with a dog, is that you have to have walks with the dog, the cat either goes out by itself or usually has a litter. I had both together, look who was the boss?! The dog is the white you see in the "house"


• United States
31 Oct 06
Do I want to know what the other furry friends wouldbe?? LOL. JK!! I am happy that you have so many pets, I personally don't think I would be able to keep up with them.


• United States
31 Oct 06
Listen here Jorge!!HAHA!! You call me crazy, i call myself smart!! So there!!! that way I don't have to put all the work into taking care of them or my asthma hat would come along with them.


• United States
1 Nov 06
Dogs are great pets if you have the time and patience to train them. They are very loyal and protective of their masters. Cats are good pets for people who can't devote a lot of time and energy to caring for a pet but want the companionship.

• United States
31 Oct 06
I am allergic to most cats, so I prefer dogs. ~Remember to give out +'s when it's deserved & select best responses. It helps us all out ;-]

• India
31 Oct 06
I love both cats and dogs, but i must admit i have a soft corner for cats......