disable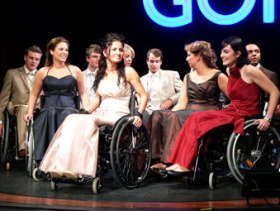 Italy
January 22, 2008 2:32pm CST
YOU HAVE FRIENDS Or RELATIVES IN WHEELCHAIR? YOUR BEHAVIOR CHANGES? MINE THEY DO NOT HAVE LIMITS, BUT THEY ARE LIKE WE.
3 responses

• United States
23 Apr 08
well im in a wheelchair myself i can do anything anybody else that is healthy with no disability well im healthy you get the point though i let nothing in this world hold me back or stop me from being independent i live on my own with 24 hr care and have 3 children was married once but divorced but we are very good friends till this day he is still there if i need something

• Canada
22 Jan 08
I have a friend in a wheelchair and the only thing I find is that a lot of places aren't equipped to accommodate a wheelchair. I see more and more places are considering this when building these days. Maybe some day everyone will realize that they are just people too.

• Israel
18 Mar 09
I have many friends with wheel chairs. They are just like everyone else. They have their good points and bad points, strengths and weaknesses. Of course they have limits, just as everyone has limits. I can't make a basket with a basket ball for anything. That's a limit. There are many people in wheel chairs who can do it. I can't reach the top shelf in my favorite health food store because I'm only 5'2", neither can folks in wheel chairs. It's a limit. We deal with it by asking someone taller to help and take down what we need. It's not a question of having limitations, but of doing everything as best as we can. There is always a way to accomplish want we want to do. Anything is possible. I have many disabilities, most are hidden. Physically I'm much weaker than I was when I was younger. It sucks, but I won't let it stop me from having the life I want. I also have strengths. I'm smarter than most people. I hope my brain always stays sharp.