Have You Ever Just Found Out A "Celebrity" That You Knew Had Passed Away?

United States
January 23, 2008 11:50pm CST
I had been involved with a discussion by worldwise about the passing of a rather well-known Native American actor, Floyd Red Crow Westerman. I gave her a link to a website that is a listing of all Native American actors....so curious I started puttering around the site myself, and came up with a familiar name, Rino (pronounced Reeno) Thunder. So clicked on his link to his site and found out to my dismay he had died back in 2003! What was shocking for me, was that I actually knew him. This goes back to the late 1970s. Being part Native American myself I perchance went to an outdoor powwow at the Museum of the American Indian..I took my camera with me and got some excellent photos, mainly using black and white film. Then I found out about the American Indian Community House (AICH) in Manhattan and at the time they were having a gallery exhibit of Native art work. I asked permission if I could photograph some of the work and they said it was all right. A few weeks later, I went back to them, with a small portfolio of some of the black and white prints I had made up as I knew how to develop my own film and prints. I showed off my work to some of the staff members and they were so impressed that right then and there they asked me to in effect be their "official" photographer to photograph future exhibits, the powwows, to photograph their jewelry that they made on site and to photograph some of the people that belonged to AICH as many were aspiring actors who wanted their 8x10 glossy resume photos ..and yes, you can guess just who was one of the people I photographed...Rino Thunder...you can say it was a classic case of knowing him before he got "famous"--he was seen in some of the following movies: Film · 7th Street (2002) · Fresh Kill (1994) · Geronimo: An American Legend (1993) · Beyond the Law (1992) · Hot Shots! (1991) · Power (1986) · Wolfen (1982) Television · Miracle in the Wilderness 1992 · Invisible Thread Penn & Teller 1987 · Three Sovereigns For Sarah - American Playhouse 'John The Indian' 1985 · Stone Pillow Starring Lucille Ball 1985 · Dance in America 'Song For Dead Warriors' - Narrator (Emmy Award) 1984 · Johnny Appleseed And The Frontier Within - 'Shamen' (Emmy Award) 1983 · Leatherstocking Tales - Singing Bear (Emmy Award: Outstanding Childrens' Anthology/Dramatic Programming) 1982 When I photographed him he took on the stance of the very serious person, the classic "stoic" Indian-- never cracked a smile, but he did have a wicked sense of humor. I unfortunately don't have any of my photos of him printed up..but I do still have all the negatives of all the people I had photographed during that time. Anyway, like I said you can imagine my shock when I was looking at that website, only to find out he had passed away in 2003..odd, as I never even remember anything mentioned about his passing..I surely would have remembered hearing about it. http://www.tv.com/rino-thunder/person/236178/biography.html So have any of you actually known any "celebrities"? And then found out they had passed away? All I know I really feel a sadness about having learned of this actor's passing..
7 responses

• Philippines
24 Jan 08
Hi pyewacket! Oh, that is sad. You must have been shocked when you learned about the news somehow. I am sure that somehow you will be affected when someone pass away whom you knew somehow . However, the only celebrity I knew on a personal basis but not that really close is still alive and kicking and I am glad she still is. She was our neighbor before when we were a lot younger and when she was still not a famous celebrity reporter here. Take care!

• United States
24 Jan 08
Hi faith..haven't seen you in awhile Mmmm...you got me curious..who is the person/celebrity you used to know?

• Philippines
25 Jan 08
Hi pye! Been to hibernation for more than a month. haha..Now I am back! The celebrity reporter I knew is here from our country. She is one of the famous talk show personality/reporter here in the Philippines. Her name is Lolit Solis, I was very young when she married our neighbor and I used to go their house because their nieces are my playmates. Take care and have a nice day! :)

• United States
24 Jan 08
That has to be tough finding out that way! It's really cool that you were their photographer! I'm also not familiar with the people you have mentioned but it doesn't take away from the sadness non the less. Again, I'm sorry you had to find out that way!

• United States
24 Jan 08
That must have been a shock for you, but it may not have been widely publicized when he passed since he may have been out of the limelight for a long time. I don't remember hearing anything about Westerman passing on but then my memory is not always the best. I do remember Westerman from the tv series Walker. I am sad to hear he has passed away and I hope he has seen his just rewards at the hands of whichever God he believed in.

• United States
24 Jan 08
It's a shame that such actors aren't mentioned as having passed away...but as you said, maybe cause they weren't big, mainstream "actors" they didn't have any notice of their passing...sad in a way

• St. Catharines, Ontario
24 Jan 08
Well, I can't say as I can place Rino, but Floyd fer sure... Lakota arthritis remedy spokesman, among other things. But I hadn't heard that he passed.

• United States
24 Jan 08
I got curious...I was looking up that Lakota remedy..yeesh is that ever expensive.

• St. Catharines, Ontario
25 Jan 08
Yeah, well, what isn't these days?

• United States
25 Jan 08
I wish I could see a photo of this Rino Thunder, pyewacket, because the name sounds familiar to me(but I never met him). I have always been highly conscious of the contributions of Native Americans in the film industry and have seen many come and go over the years. I t might be a sad statement on my behalf, but I have never actually met a famous person that I can remember. I have attended concerts and such to watch them perform -from a distance, lol.

• United States
26 Jan 08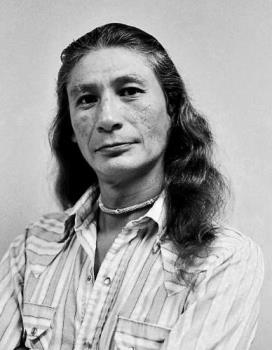 Oh, wow are you in luck....You see all my pictures of that time are on black and white negatives...meaning I would have to print up the old fashioned way in my darkroom setup in the kitchen...well I haven't had the funds in a long time to get supplies...Now I have my scanner that I use to scan for my slides and prints...but couldn't figure out how to scan negatives and make into positive images UNTIL NOW!!! I'm doing a happy dance here...so went through my photos and dug out Rino Thunder's negatives... So here it goes....one of my photos of Rino Thunder...hehee

• Canada
25 Jan 08
What an interesting set of circumstances...thanks for posting this. It is a great reminder of how we touch each other's lives...often only passing by like the proverbial ships in the night without full awareness at the time. Then, like you an echo from the past comes back to awaken us to the fact that there was something more. I have never had something like this occur...but it makes a great read. It is also a loving, respectful tribute to someone who many others may not be aware of...as is the care for me. Sorry that someone who touched your life has passed away..but you have paid tribute...and the memories of your encounter are here for as long as Mylot allows it to be so. Raia

• United States
25 Jan 08
I was so hopeing that a picture of him was in there. The only movie that you meantion I have seen is Geronimo Ameerican LEdgen. SO now I still dont know which one he was. And I have met Rex Allen A westernmoviestar and singer and his horse Cocoa. Also MArty Robbins a country western Singer . was so sad whn I heard MArty passed away am sure That Rex has probably passe away too. and I have lived in the town he was born Wilcox Arizona VEy small town!