Cats and Snow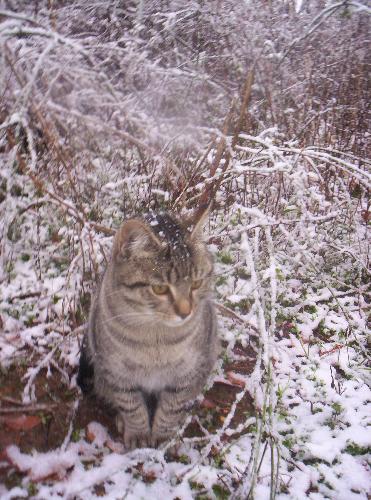 United States
January 24, 2008 11:59am CST
It snowed here last weekend and it never snows here. My cats did not know what to think about this. It was so funny watching them try to figure out what was going on. After awhile, they began to even try to catch the falling snow. It was so adorable. I was just wondering how cats that are use to the snow react to it. Do they not even bother or care because they are use to it? Or do they enjoy hopping around in the snow? I think my cats would enjoy days and days of running around in the snow.
5 responses

• United States
26 Jan 08
I love watching the cats around here out in the snow. The bound across the street where it is dry then when the hit that cold snow they start jumping like bunnies through it, it is hilarious to watch them.

• United States
25 Jan 08
It snows here in the winter and gets bitterly cold. We had a good snow storm last month. Our cat is an inside cat so she's never been outside but am sure she would like to play in the snow and try to catch the flakes. She does sit on a windowsill when it's snowing out and watches. I've seen many puppies play in the snow and they love it. We have an older dog now who isn't interested in the snow. He goes out, does his business and wants to come right back inside.

• United States
24 Jan 08
When we got our first good snowfall this season, my pup didn't know what to think of it. I opened the door to let him out to potty, and he took one step, and right back in he came. An hour later, he was whining, so we tried again, and there was about 3 inches of snow. Same result. Finally about 2 hours after that, he just couldn't hold it any longer, and he trekked out into it. His walk-hop was hilarious. It's fun to watch an animal the first time the see and experience snow. My cats don't seem to care for it. I used to have one who would try to climb on my back if she was outside in it, so that I could give her a lift to her destination so she didn't have to walk in it.

• United States
24 Jan 08
LOL we stuck one of our cats int eh snow today and he went crazy he started to lift his paws and be like wtf.:P Also after we brought him back in he wa spawing at the widnow wanting back out ;).