Do you think it's a bigger advantage to make money online versus being employed?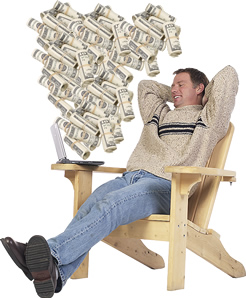 Philippines
January 24, 2008 9:37pm CST
I have to say it is very difficult to make money working in certain employment companies such like here in the Philippines. But then again what about making money online? It would probably be faster I guess. I know that I have been keeping up with the news that unemployed people have increased and how hard it is nowadays to get a job. Where I work small pay, but then now i see here if i can gain much more in Mylot or any other paid sites - sure why not? How about yourselves? Do you find it convenient for yourselves to make money online or working for other companies? Does it benefit you or not?
6 responses

• Philippines
8 May 08
i think it is rather not stable to rely on your online earnings alone. of course there are sites that pay well you can very well resign from your work. i have not found any good site that will actually make me saty at home and just earn from here... i still need my work in the office, i need the benefits i get from there...



• United States
4 May 08
online money making doesnt fulfill me i like to work i need that everyday motion drive sittin on a comp jus isnt apealing nor does tha money made an effort used seem to add up mayb thats me this whole internet thing gets boring an playd out at one point

• United States
25 Jan 08
I do both and combine. I work doing computer repairs and then I make money online. I'm actually starting to like making money online for one it is growing and advancing pretty fast. So far the earnings here for me is growing and I'm starting to like that. So while I get paid for doing repairs I can also get paid here using Mylot. But the thing is it is true how hard it is for people being unemployed and for those job less it is always good to start off making money online and to build it. I hope you advance and continue to grow in your process with Mylot. Take care as usual good things will happen.

• United States
25 Jan 08
I would always say a job it. I can't imagine working and making .70 a day on a job So with minimum wage going up it is better to work. I find it better to be home working and that is making purse's. I could not work online other than on selling sites. It would not be best for me.