So you like reading huh? Want free books?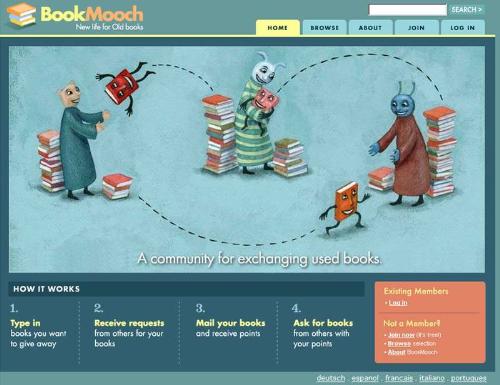 Philippines
January 26, 2008 10:11am CST
I've been a member of this site for exactly 9 months now, and I must say that this is such a great site! The members are just accommodating and the site features are awesome! If you'd like we could swap books too! My username there is irisbuen. Join now! It's called Bookmooch.com! It's pretty popular - sign up, add your own books, when someone requests your books you get points. When you get points, you could use them to request books you like and the members send it to you with shipping covered by them! Great site for dedicated bibliophiles!
4 responses

• Philippines
27 Jan 08
Yey a fellow bibliophile and Filipino! (are you Filipino? hehe) I love to read books but I haven't heard of that site. Thanks so much for telling me abhout, I'll try to check it out. =) Good day friend!

• Philippines
27 Jan 08
Yes, I am proud to be a Filipino as well as being a bibliophile! :] I'm the kind of worm who lurks inside bookstores and bargain bookshops looking for nice books to read! Hehe! Oh wow, you haven't heard of Bookmooch (BM)? Well then, you should probably sign up! Many Filipinos are there already and most of them are my BM buddies! We have traded books and requested books from each other and I could confidently tell you it is an addicting hobby! Although the shipping will be shouldered by the giver, 1 point is allotted for the cost of requesting 1 book and 3 points will be given for international requests (2 from the moocher or the so-called requestor and the other 1 point is given by Bookmooch!) I hope you'd join so we could swap books too! I have about 20+ in my inventory and I'd like to dispatch them already so I could mooch something else. Here's my bio: www.bookmooch.com/m/bio/irisbuen

• United States
28 Jan 08
I've used Bookmooch in the past. I like Paperbackswap.com better, though. On Bookmooch, I would never get the books I wanted, because by the time I got the email, someone else had grabbed them! With Paperbackswap, they keep a list, and when you're number one on that book's list, they offer it to you. Much easier, in my opinion!

• United States
28 Jan 08
I love paperbackswap.com! I am a busy working mother and i only have time to check my email once a day, if there is a book ready for me I get an email that I respond to right then and its very easy.

• Philippines
28 Jan 08
Yeah great thing, but the only problem is that Paperbackswap doesn't offer its services here in the Philippines and to other countries aside from US. I hope they could work that out so I could sign up. That would be much much awesome if Paperbackswap could be available to other countries as well. I feel that America's always the center of benefits, lessening the opportunities for others who doesn't reside there. Good luck on your swapping though! :]

• United States
29 Jan 08
Bookmooch has some neat features, as well. Such as giving points for posting books. Paperbackswap doesn't do that, only a credit when the book is received. If Bookmooch would change to a queue system, I would do most of my swapping from them. But since they send an email to everyone who has the book wishlisted, I never respond in time to get the books I want!


• United States
16 Oct 08
How have I missed out on this? Love this idea. Bibliophiles UNITE!


• Philippines
17 Oct 08
I have been on vacation in Bookmooch but I recommend it to you because it's really a great idea! You send books free and get them free too! I acquired my copy of Veronika Decides to Die and Tuesdays with Morrie through the said program! Hope you will enjoy too.

• United States
28 Jan 08
THat sounds sooo cool but like the other person. If I want a book I can't keep I go to the library