Is Roger Federer losing his touch?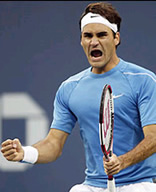 Philippines
January 27, 2008 7:18pm CST
Hey mylot! I just want to get your opinion on this because I have noticed that during the Australian Open, Federer has been playing differently. You don't see him dominating and being consistently aggressive towards his opponents anymore. He's staggering, as we all saw in the classic Federer-Tipsarevic match which ended in a lucky 10-8 win for Federer. Then there's that Djokovic match where he was beaten in straight sets. What is going on? I actually have two theories. One is he is getting bored and thinks that he is better than everyone else, so he doesn't exert that much effort into winning his matches anymore. The other one, is that like every champion, once you reach the highest top, the only way to go is down. What do you guys think?
3 responses

• China
28 Jan 08
I think Nadal's lost made some affect on his mind, he's eager to win this year while such eager wasn't built on strong confidence, he may need some defeat to think more and feel more, after all, he's still the most perfect player in that field. His skills will help him find his way back, he just needs some time, I guess.

• China
28 Jan 08
Oh, I mean Federer, he was keen to win the final, he didn't think much about the semifinal maybe, while Nadal's smashup was kinda like giving him a message that this year so many unexpected things happened, he may sense sth especially with his stomach-ache coming right at that time, some signs maybe. He's won so many times in the grand slam series, to win is a directional thought in other people's eyes while Federer may not think so, he knew how hard it is to win every time. I still believe he's the best, he needs to find himself again and he'll be better.


• India
6 Feb 10
there are phase when players go down, right now he is back,a and hopefully he can continue his good form.