Who is your fantacy lover?

United States
10 responses

• Murfreesboro, Tennessee
28 Jan 08
Angelina Jolie. I know that's probably not very original, but I've had a thing for her for like 13 years now, since Hackers. :P She's sexy in so many different styles too. I like her as she was in Hackers of course, since that started my obsession, but I also like her as Sway in Gone in 60 Seconds, as Jane Smith in Mr. & Mrs. Smith, as Lara Croft. In fact, I can't think of any role she's been in where I haven't thought her unbelievably sexy, whatever her style. Plus, her humanitarian efforts make me like her even more, on top of just wanting her in bed (or floor, or couch, or shower, or...).

• United States
28 Jan 08
I think you and my husband could have a long discussion about her. We have to get every single movies she's in. She is very pretty and comes off very cool, I'd like to be adored like she is and have her kind of savoir faire. But I just have to have a guy playmate! Thank you for responding, it's always interesting and "food for thought."

• Murfreesboro, Tennessee
28 Jan 08
Hehe, I can think of a couple guys I wouldn't mind as playmates, but far more women. Angelina always tops the list, but close behind her is Alyson Hannigan (whom I've been obsessed with since Buffy the Vampire Slayer), and Keira Knightley (but muscular like in Bend it Like Beckham, not anorexic like she is now). For guys... well I watched too much Buffy, like I mentioned before. James Marsters tops that list, definitely. :P

• United States
28 Jan 08
You are so funny, you start talking that you wouldn't mind a guy, then list more females, but you did say a guy at the end. Oh you! You do make me smile, though.



• United States
30 Jan 08
When you hit 500, maybe we can see a post of him. Is there a link or some way I could see him? I love checking out good looking guys.

• Philippines
30 Jan 08
I forgot tomention bruce willis but he is older that my father but then, it is just a fantasy. I don't know why I drool over him for some time but my teacher said that women tend to get attracted with men 35+ since their pheromones are more active at those ages.

• United States
5 Feb 08
I didn't know their ph's were more active. Learn something new every day. Thanks for the info. Take care

• United States
29 Jan 08
I have 2 and can't decide which is the best. I could fall into Tom Selleck's dimples real easily or could fall all over George Clooney. Clooey's voice is so wonderful. Find them both very sexy and both are great actors especially Clooney.

• United States
29 Jan 08
Not to mention that they both can laugh at themselves. They're both pretty timeless. Glad they make you happy. Take care


• United States
29 Jan 08
Yeah! Muscles rule! Thanks and take care


• United States
29 Jan 08
What's Tara Reid in or famous for?

• United States
28 Jan 08
My fantasy and my actual are the same person, my husband. When he asked me to marry him I was beyond surprised. No one looks like him, he is almost heavenly in the looks department. Looks like a statue, perfect chizzled features, clear blue eyes, nordic blond hair, northern italian accent, perfect smile, great teeth, and really smart. So my fantasy is him.

• United States
29 Jan 08
That is wonderful! Smile. Congrats to both of you!

• United States
28 Jan 08
Soooo many choices out there. I would have to say Kate Hudson, she is so small petite and just plain beautiful. She really does it for me and it is a fantasy isn't it. She has looked so sexy in so many movies but the Skeleton Key she looked amazing.

• United States
28 Jan 08
Sounds like she really does make you happy. Yup, it's a fantacy, I'm never having a fling with A. S., he doesn't know who to heck I am even. That's what's so great about fanacy lovers. Thanks for your response.

• United States
28 Jan 08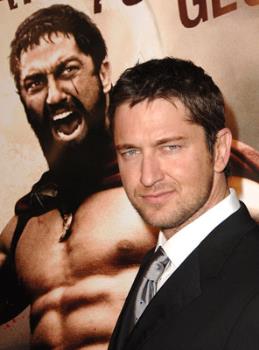 ooo interesting....for me really there could be a couple I wouldn't mind lol. Can I just cheat and say them both?=P Okay...one would defeniatly be Jensen Ackles, from the CW show Supernatural! He is VERY sexy, I just loove him!The other guy would be Gerard Butler. I know he is a "little" older than me, but he is very sexy!!!

• United States
28 Jan 08
Glad you put a picture of one of them in here. I have to start watching some young people shows so I know what you Young'in's are talking about! Smile, the one you posted does look like a cutie. Take care and thanks for responding.


• United States
30 Jan 08
Just checked him out. As much as I could, my video capabilities on this computer are horrible. It loads about 30 seconds of film, shows it, loads another 30 seconds (while I wait), then shows it, so I got him clapping and saying one word. Different strokes for different folks. So you like them ectomorphic young bucks huh? I like a little gray in the hair with a little experience and some muscles. At least we'd never compete for the same guys! Still, he is kind of cute.

• United States
30 Jan 08
Oh, he's got the gray now... he gets better looking all the time! Not quite so skinny... but those moves are still there! He doesn't leave a lot to the imagination... I really like that! And that VOICE!!!!!! If your 'puter has those problems, you'd never get my myspace page to open, darn it... I have loads of good Dave stuff there. He's an awful lot like Hun in his younger years... guess thats why Hun doesn't have a problem with my obsession... he has sportscars that he rebuilds, and they're HIS passion... we meet in the middle and relieve tensions!!LOL!

• United States
30 Jan 08
Well they do refer to cars as shes. There are just some things that a guy can't do with a car (and if a guy can, I don't want to know). Yes, I will have all your secrets at this rate, but I will use them for good and not evil. Just to raise more heck in my own life!


• Hong Kong
5 Feb 08
I guess my fantacy lover has to be Hugh Grant! I don't really like his outlook, but I love his British accent and humor and his facial expressions! For now I think my fantacy lover has to be him *smiles*.

• United States
5 Feb 08
Oh yeah, he's built and yes he does have an attitude problems sometimes. But he does have humor, facial expressions and an accent. Thank you very much for your response. Take care