Arkaf has a guardian angel:)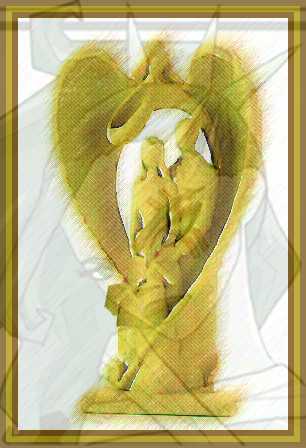 Canada
January 31, 2008 10:54pm CST
Two to be more exact. Others might call them just people, some will call them neighbors, but I don't really care what others call them. They are my guardian angels and that's it!:) THey lived in the house beside mine until they moved about two months ago. We were/are not what might be called friends although we have always been polite to each other and even enjoyed chatting sometimes. They were "victims" of my in laws when we bought the house. By victims I mean that my parents in law where not really pleasant to them. When we bought our house there was a small gate in between the two properties that apparently was used with the consent of the previous owner for them to store their bikes since they had no access to that area- that is part of their property - unless trough our back yard - bad planning from the people who built their back shed. MY in laws decided that they didn't want them pass trough their/our property and never allowed them to go trough. Even for them to get their bikes I was the one who arranged it. THey were also witnesses to some of the abuse I was subjected to from my in laws. THe first great thing about them was that my in law's behaviour did not affect the way they were with us. They were always polite and friendly. The second great thing about them is that they also had pets and loved animals as much as we do. The third great thing about them is .... that they are our guardian angels:) We bought this house together with my in laws almost 20 years ago. MOre than half of those 20 years have been difficult for us. But somehow, these neighbors, that aren't even special friends have played a very positive role in our lives. WE don't see them often. OUr work schedules are different so even when they lived right beside us, we didn't see each other often. But somehow, when we were struggling with something we would often meet specially Helen and stop chatting for a bit. In the end she would always have a simple solution for our problem. From a time where katt was sick and she found a specialist that helped us. To having a book about dogs that helped us deal with sheba's recovery. To leaving a small keyboard at our door that got katt interested in playing piano, something that turned into something she does when she needs to relax. To giving us the name of a good vet when Tazz was very sick.....Every single time Helen has the right solution for us. They did move, but just to two streets down. And when I"m going around worried that Andre needs math tutoring but all places I'm calling are too expensive, I meet Helen just at the corner. No problem at all, Peter - her husband - tutors math students and he will do it for a price that we can afford. From day one Andre is coming back from tutoring with new confidence and skills. So of course I shouldn't be surprised when I met Helen at the bus this morning. We've been having trouble sleeping because of our cat bailey. Although all our other pets have had all their vaccines and were spayed or neutered, bailey came to us at a bad time. We couldn't spend any extra money so he wasn't vaccinated and surgery was really out of our budget. Of course this brought problems. Bailey is a healthy male cat and not only he wants a girlfriend, he is very vocal about it:) He also tends to mark his territory in our home by spraying this and that. SInce the beginning of this month no one in our home has been able to sleep properly because at 2am each day/night Bailey starts calling all the prospective "girlfriends" loud enough so they can hear him. Hubby is the one more affected by it since he wakes up at 5am and can't sleep much after 2 and he's loosing patience. I called some vets and after inquiring about neutering all I was getting was that they had to be vaccinated - twice - before the surgery which would cost us about $200 and then the surgery itself that would cost about as much. Plus this and that we were looking at $500 that we couldn't spend. That's what I was telling Helen this morning in the bus. Well guess what? She knows of a clinic where they do all of it for much less. She told me she would call me at night or would have the person in the clinic give me a call. That she did. I can take bailey there any wednesday- I'll go in two weeks because it's when I get paid - and have everything done for only $80!!!!!!!!!!!!!!!!!!!!!!!!!!!!!!!!!!!!!!!!!!!!! Now tell me that these two people are not our guardian angels? That they didn't enter our life to keep us from loosing hope? I don't care what people will say. Coincidence, luck, just one of those things.... These two people are our guardian angels and that's it!:) What about you. DId you ever met someone that even though not too close, always brought something positive into your life?
4 responses

• United States
1 Feb 08
Oh dear these people do sound like guardian angels and you are so lucky to have them in your lives. I've had several people over the years who were similair - when I had no idea what on earth I was going to do they came through with 'fixes'. I haven't stayed in touch with all of them but even years and years later I remember them fondly and am thankful they touched my life if even only briefly.

• Canada
2 Feb 08
I certainly am lucky to know them:) And what puzzles me more is that as I said, the truth is that we are not even friends, not really , more like just acquaintances, neighbors.. . and still they have positively influenced my life more than many of my friends:)

• United States
4 Feb 08
That's what makes them even more special - they are good helpful people to everyone, not just the people they are close to. Reminds me of years back I was expecting my first born and traveling from Virgina to Michigan alone. I was about 50 miles from home when I ran out of gas and had no money. This 'farmer' stopped and offered help. I asked if I could use his phone to call family for help - he said don't worry and went back to his house where he had a gas tank. He brought a can of gas back and put it in my car then told me to follow him back to the farm where he would put enough gas in my car to get me home. I asked for his name and address so I could send him money when I got home - he refused say, "I just pray that if my daughter were in the same situation someone would do the same for her." A guardian angel in my book!

• United States
2 Feb 08
I am glad for you Arkaf!! There are people like that in this world. I will bet that Helen actually is that angel to many people that she meets. They probably are a blessing to everyone they meet, and just love to help people.

• Canada
2 Feb 08
I know my friend. I think that they are like that with every one, it's just the way they are. It's interesting they are a just normal people, friendly and caring, but just normal people. But I'm sure that there are many more like us that have been enriched by knowing them.

• United States
1 Feb 08
I am so glad for you! Sometimes if we a patient and persistent and just keep going over life's hurdles very good things happen. I'm sure these lovely people know how you feel about them, but it would be fun to see the looks on their faces if there were to read what you wrote about them here. I'm sure you are brightening this couple's lives, too, in ways you might not even imagine. :-)