Today is a good day to just enjoy life.

United States
February 1, 2008 5:27am CST
It's bitter cold in New York today. I am up and feeling fine. I have to go out bad brace that bad weather as well. I am going to try and make today a good one. I was the first to shower at 6am. So I got the hot water. LOL I am happy that I have time for my pores to close. To sit and pay some bills and think of the rest of my day. What do you have planned for today? Just enjoy life and all will fall into place. :)
6 responses

• United States
1 Feb 08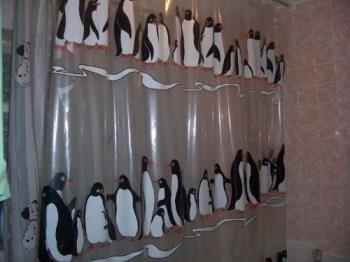 The thing about showers on a cold day is getting OUT of the shower. And using hot water exacerbates the problem of shivering cold when you get out (your skin temp is much hotter than the air temperature. What I do is to run cold water right before I get out. That does two things. 1. it keeps me warm(er) as it lowers the surface temperature of my body and makes the air feel warmer. 2. it closes the pores of my skin that have been opened and cleaned from the warm (hot in your case) water and a good dose of body wash and a loufa sponge. Another thing I do is to towel off in the shower (with the water off of course) where the air temp is higher than the cold of the bathroom. Of course some people love that jolt of freezing temperature when they step out of the shower to invigorate them. To answer your question... There are 40 messages in my inbox from MyLot as I get up today to those need to be answered. Next, go through the days news and see what is interesting and what is fluff. The new MyLot does a pretty good job of this. Next is pay some bills. Then maybe tonight I will sit down and watch a movie. I have my movies sitting here from Blockbuster and never seem to have the time to watch them... tonight would be perfect.

• United States
5 Feb 08
I put the heater on right before going in the bathroom. My daughter puts it in the bathroom. :)

• India
1 Feb 08
I got to know from my sister, who is in New york about the cold waves. Here, in India its colder than usual and I am having fun. After all we only get to enjoy only a few days of such cold waves. I can visualise you all refreshed with you shower done and happy. I am of your kind. However, my mother finds it tough to deal with the cold. She gets asthmatic and breathless. I think this is a good sign and hopefully if not reverse but certainly good for the green house effect.

• United States
5 Feb 08
I get short of breath as well. it's because of the wind and the cold and having to walk fast just to get home. :)

•
2 Feb 08
New York! The I have been learned the art of photography.

• China
2 Feb 08
in south china,the weather is really bad.it is havent been seen for 50 years.the terrible weather bring too much trouble .and i known too many people suffer from it. however, today the sun comes alittle while.and everything comes better.and hope everyone can have a nice day


• United States
2 Feb 08
Well today was a nasty day weather wise. School let out early because of the ice storm. I didn't get out of my jammies until 3:00! I took a shower and got into a clean pair of jammies! Nice day to sit back and do not a whole heck of a lot. I work this weekend so I didn't want to do anything more than breath today. I got my wish.