Bald by choice.....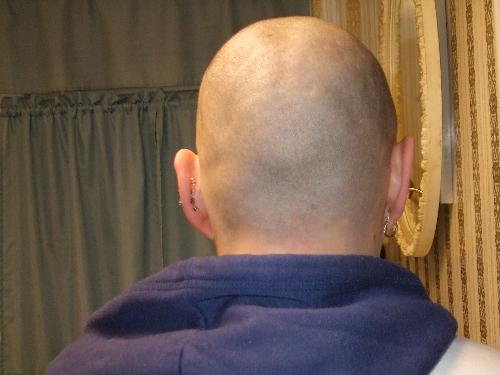 United States
February 2, 2008 9:01pm CST
Something I neglected to mention in my most recent update: I have no hair! Some of you know that my SIL, Dottie, was diagnosed with a brain tumor last summer. She went through all the radiation and chemo concurrently, but had little hair loss beyond what was removed for the surgery. She has to take additional chemo, at almost three times the dose of the first round, for five days, every four weeks, for the next year. The first triple dose session caused Dot's hair to fall out in big chunks, so she had me cut it all off for her Thanksgiving weekend. Li'l Bro & I took the clippers to our own heads, too. I just couldn't let Dottie be the only bald bit-ch in the room! Come New Year's, it was time for a trim. After using the clippers to get down to the skin, I realized that my statement, "we shaved our heads", was inaccurate - we had only clippered our heads thus far. So I got out the Barbasol and my trusty Venus razor, and got busy! First of all, let me say that shaving one's head is a truly weird experience! I have only shaved pits and legs in the past, and I never knew that you can HEAR when there's no more hair when you're shaving your head. I also never knew how damned difficult it is to shave even a very short patch of thick hair. My leg hair is kinda sparse, and comes off first pass most of the time. On my head, the hair is fine but grows rather thickly. I got razor burn in more than one spot, trying to get it all! I have found being hairless to be quite liberating, I kinda like it! The only thing I don't care for is being mistaken for a survivor. I'm quick to point out that I'm bald by choice, but my SIL isn't - she's the one next to me in a wig. We get some pretty odd looks, sometimes.
5 responses

• United States
3 Feb 08
That's so awesome that you did that for your SIL. Are you planning on keeping this look the entire time she's going through Chemo or do you think you will carry this look on after that? I couldn't imagine how weird that would feel to go from having hair to going bald. I would feel so naked! But I'm sure it is very liberating at the same time, especially since you are doing it for such a good reason. And I never thought about how difficult it would be to shave it all. I have very thick hair so I'm sure it would take a while for me.

•
3 Feb 08
First off sweety I want to say that none of this surprises me about you - from all the love and support you have shown dottie and your brother from the very first I could have guessed you would do this to help make her feel less alone! I applaud and admire you sweety and also to your brother and SIL - I send my love and prayers as always and I hope that you don't get any more nasty razor burns! xxx

• United States
3 Feb 08
Good for you! That is great that you did that for someone else. I love my own hair and don't think that I could bring myself to shave it off or let someone else do it. That's kind of materialistic, I know. I am sure it is liberating though. Wish I had the balls to do it. Actually, no I don't. I don't want to have the reason to do it. I don't want anyone around me to go bald from chemo or radiation due to cancer. Your family will be in my prayers.

• United States
3 Feb 08
Way to go. You are all survivors together. Stay strong together and you will all be around to have long hair again! I have never been so lucky to have experienced such love. You are all blessed. Shalom~Adoniah